Opinions Battle: Do you think that we should have more three day weekends?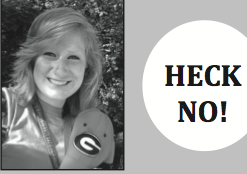 By JESSE SUTTON
Sports Editor
There's nothing better than knowing that spring break is an entire week. Those five days that are usually spent in classrooms are now cel- ebrated with friends on the beach.
Nothing is worse than knowing that I am going to school for two days during what would be a whole week break, while friends at other schools get an entire week off. This is the reason why I am against three day weekends occurring more often than necessary.
Holidays on Mondays and Fridays can create a wonderful, restful three-day weekend. However, I would rather have fewer three-day weekends in order to have breaks like spring break, Thanksgiving break and Christmas break as week-long breaks.
For example, many schools in the South don't celebrate President's Day because they celebrate Martin Luther King Jr. Day on Jan. 21. If Piedmont scheduled three-day weekends for every possible holiday on Mondays, we would have to schedule another
school day at another time in order to fill the requirements. Often, these school days are either taken from an- other holiday, or the semester starts ear- lier or ends later.
I would rather have fewer three-day weekends in order to have an entire week for longer breaks, like spring break. Additionally, fewer holidays means the semester ends
faster. At the end of a semester, many stu- dents are more than ready to enter summer orChristmasbreakafterfinals.
Many students enjoy going out of state in order to enjoy time away from campus. If Piedmont celebrated more holidays, it would cut the amount of break time in half. Many students may opt to re- main on campus or around this area because travel time would leave little time for vacationing off campus. For these reasons, enjoying two-day weekends more often is better than creating unnecessary three-day weekends.
The administration decides to hold classes on Monday and Tuesday during the fall semester on what would be a week-long Thanksgiving break. I prefer having two weekends and a whole
week at home with my family instead.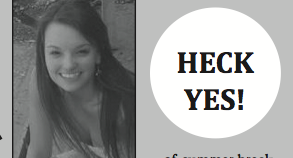 By PAIGE ESLINGER
Contributing Writer
As a current stu- dent teacher and a future edu-cator, I definitely think that we should have more three-day weekends during the year.
There are many holidays that fall on Mondaysthatwecouldparticipatein. One main reason is that kids tend to get distracted and tired easily. I know this particularly since I'm teaching first grade.
Three-day weekends are always great so that everyone can get caught up on rest and come back refreshed and ready to learn. This isn't just a benefit for the kids. It also helps the teachers keep their sanity.
I absolutely love teaching, but it's always great when I get an extra day to prepare myself for teaching our up-
coming generations. I know that some people may
disagree because they think that all of our other big breaks like Christmas and summer break might get cut shorter, that bad.
But it wouldn't be
If you really think about it, if we had two extra three-day weekends a semester, that's only four extra days off a year and less than a week off of summer break. I think we can all sacrifice that just
foracoupleofextrarelaxingweekends. We tend to always be on the go and never get a break. That's why I love
three-day weekends. From the teacher's perspecitive it
also gives teachers more time to spend with their families during the year.
Teachers work long hours during the year and have a lot of work to do out- side of class.
Having more three-day weekends would give them a chance to take short trips with their families during the year or just enable them to spend time with them. We all know how important fam- ily is and how great it is when we get to spend time with them.
I would say that having a couple of extra long weekends wouldn't harm anyone and would make some people very happy and relaxed. And my first graders will come back even more excited to learn