Lions Weather Stormy Petrels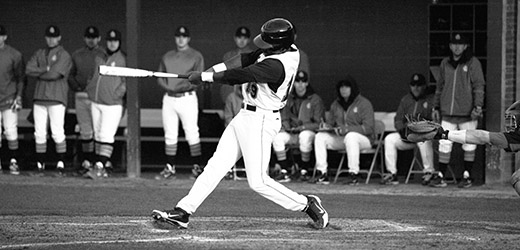 By ZACH THOMASWICK
Staff Writer
The Piedmont Lions baseball team defeated the visiting Oglethorpe University Stormy Pertrels last Wednesday with a 9-3 non-conference victory. 
The Lions jumped on the board quickly, with Keith Grabowski leading off the bottom of the first with a double. He stole third base, setting him up to be driven in by Josh Bailey for a RBI groundout two batters later. 
Oglethorpe answered the Lions in the top of the third, pushing two runs across the board, capitalizing on a Piedmont defensive error. 
The Lions scored their second run in the bottom half of the third. 
Grabowski led the inning with a base hit before advancing to third courtesy of a stolen base and a balk by Oglethorpe's pitcher. He then scored on an RBI groundout by Will Skidmore. 
The game deadlocked until the home half of the fifth inning. Skidmore and Bailey began the inning with back-to-back singles. 
Breck Davidson advanced each of the runners with a sacrifice bunt. Evan Gresham followed with a sacrifice fly, scoring Skidmore. 
Then, James Moyer launched a two run double, putting the Lions up 5-3. They  would not relinquish the lead.
The Stormy Petrels scored one run in the top of the sixth, but the Lions answered with four insurance runs in the bottom of the sixth. 
The Lions capitalized on the wildness of the Petrels' three pitchers of the inning, capitalizing on three walks and a wild pitch.
On the defensive side of the diamond, the Lions used a collaborative effort by their pitching staff. 
The Lions sent eight pitchers to the mound in the game, who combined to allow only one earned run and struck out 14 opponents, a high for the season. 
Billy Magnum pitched a hitless first two innings. 
The Lions sent a new reliever to the mound to begin each of the remaining innings. Matt Stephens, who pitched a perfect fifth inning, picked up the win.
The Lions used aggressive base running, collecting a total of ten stolen bases. 
Grabowski led the team with four stolen bases, followed by Bailey and Barnes with two, and Youtsey and Tim Nunez swiping a bag each. 
In the victory, 23 players Lions saw action on the field.
 "It was a total team effort winning that game. Everyone stepped up when called upon," said Youtsey.
With the conference tournament approaching, the Lions are looking to enter it carrying momentum to reach regional play.
"Our pitching has been excellent all year and we hope to continue that, and then to keep hitting the ball like we have of late," said Youtsey.
The non-conference victory moved the Lions record to 16-14 on the season.