Lacrosse Finishes Home Season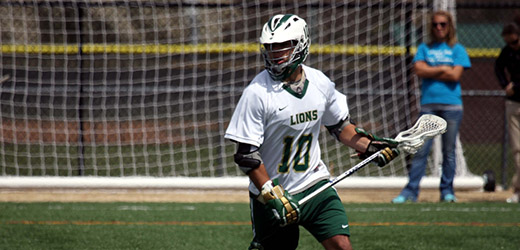 By JANIE HARRIS
Staff Writer
The Piedmont Lions lacrosse team beat the visiting Young Harris Mountain Lions 7 to 5 in Piedmont's last home game. 
This win bumped PC's overall record to 6-8 and Young Harris's record to 5-4. 
During the entire game, Piedmont led in goals.
"I thought this game was awesome. We played our hearts out. This was our most complete game this season," said assistant coach Jake Milrod.
In the first quarter, Piedmont scored three goals and kept Young Harris from scoring. 
Bystanders felt the tension rise in the second quarter when Young Harris scored two goals back to back. 
In the third quarter, Piedmont scored a goal that was soon answered by another Young Harris goal. 
Before the quarter was over, Piedmont extended the lead by scoring another goal.
Piedmont goalkeeper, Mick Baker, had 21 saves and allowed five goals. 
"We had some stressful moments, but we did what we needed to do. In the end, we came out on top," said Baker.
Piedmont started the fourth quarter with a goal. Young Harris responded by adding two more goals. 
Directly after a timeout, Piedmont scored another goal.
"It was definitely the most violent game that we had this year. The defensemen from Young Harris played very dirty and the [referees] did nothing to stop it or control it, so it continued to the end," said attackman Holin Axley. 
With less then a second left in the game, the Young Harris players started a small fight by teaming up against Axley. 
The fight started because of a high hit.
Thoughout the game, Young Harris goalkeeper Bobby Parker had a total of 17 saves and allowed seven goals. 
Young Harris won eight of the 15 faceoffs, 25 turnovers and ten penalties. 
Nick Green scored three goals for Piedmont with an assist from Patrick Ammons in his third goal.
 Branson Mikell, Axley and Ammons each scored a goal for PC.
Piedmont won seven of the 15 faceoffs, had 24 turnovers and seven penalties.  
The men's lacrosse team plays their final game of the season on April 13 at 1 P.M. against Huntingdon College in Montgomery, Al.