Netflix Original "You" Review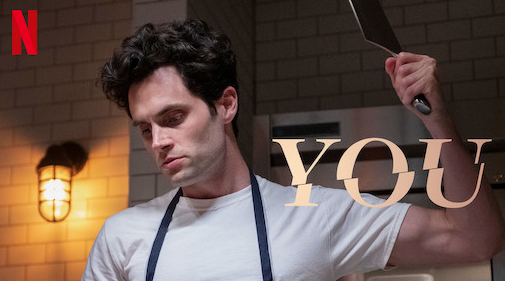 Netflix original show called "You" premiered its first season on Sept. 9, 2018. The show took everyone off guard since it is not your average show. Joe Goldberg, the main character, appears to be a quiet guy working in his local bookshop, but he has a dark side. When Beck walks into his store, he becomes obsessed with her and begins stalking her. You do not find many shows that go into the mind of a stalker. The first season did extremely well and received a score of 91% by Rotten Tomatoes.  
As a big fan of horror movies and shows, this Netflix series grabbed my attention and millions of others. This movie pulled me in with me wanting more after the first season. A year later, season two dropped with another rollercoaster of events happening in the show. Rotten Tomatoes gave this season an 87% which is still tremendous. Most shows or sequels do not do as good as the first season or movie which is what surprised me on the 2nd season. As this season came to an end, there was a certain scene that showed there was going to be a 3rd season which is what everyone wanted. I personally felt they were going to just drag the series on after the second season ended. However, I was thrown off guard once the third season released.  
Season three released on Oct. 15, 2021. I had no idea what to expect when watching this season since the 2nd season didn't leave many clues. However, this season was by far the best season of them yet. It received a score of 94% by Rotten Tomatoes. This show jumps all over the place and every episode keeps you on the edge of your seat. The ending will have your jaw dropped in shock. As a big fan of thrillers/horror movies, I have to say, this is one of the best shows I have ever watched. I am counting down the days until the next season is released.