Grill on Georgia Street makes the move to Mize Center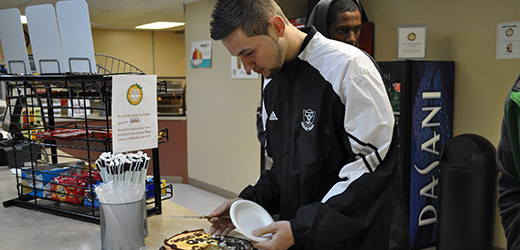 By MEGAN STUDDARD
News Editor
The Grill on Georgia Street has moved to the Johnny Mize Athletic Center concession stand to make way for the construction of the new student center. 
Chartwells held a farewell party last Thursday to commemorate the restaurant's last night in the building. Complementary cake and coffee were served, and plans for the new dining facilities were on display. 
According to Chartwells dining director Angie Mixon, students' Grill money will transfer to the new location. However, some of the menu items will not make the move. 
"It's going to be more of a healthy menu, kind of like a Subway-style wraps," Mixon said. 
"We're trying to get away from the fried foods."
The Grill will operate in its new location until the new student center is built.
"It will definitely be until the end of this semester and all of next year," said Mixon. 
According to President James Mellichamp, an exact date for construction has not been set, but he said it should be sometime this spring. Parking at the Grill's former location will also be affected by the construction site and students who park there may have to find a new lot to use. 
The $3 million  student center will feature new dining facilities and a cyber cafe that will eventually replace the Grill.