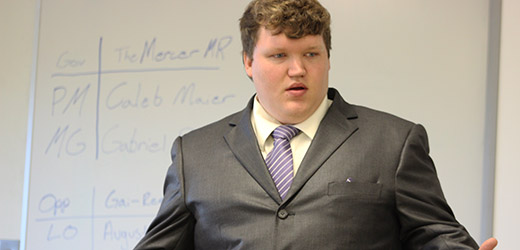 By MEGAN STUDDARD
News Editor
Over a dozen teams from five different colleges competed in the Mayflower Classic Novice Debate Tournament this past Saturday. 
The Mayflower Classic was the first intercollegiate tournament hosted by Piedmont College.  The tournament took place across campus and used Daniel and Stewart Halls, as well as the Swanson Center.
Debates were parliamentary-style  and  ran 40 minutes long, including a 20-minute preparation period.  The topics ranged from gun control to North Korean nuclear weapons.
Judges for the tournament included Piedmont varsity debaters Brandon Callahan and Bethany Murley, as well as PC Debate alumni and debate team members from other schools. 
Murley, Piedmont Debate president, said, "I enjoyed watching the debate community show support for Piedmont. Judging from the talent I saw, these novices are ready to take the varsity world by storm next year."
Teams competing from Piedmont included the pairs of Augusta Gailey and JT Reed and Ethan McGowan and Rusty Crumley. 
Both teams from Piedmont made it to the quarter-final round before being eliminated. Gailey, Crumley and McGowan won sixth, fifth and fourth place in speaker awards, respectively. 
The University of North Georgia (UNG) and Middle Tennessee State University (MTSU) faced off in the final round, debating over penalties for straw gun purchases. 
The UNG team eventually won the round, becoming the Mayflower Classic champion. They also won first place in sweepstakes and claimed several speaker awards. 
Piedmont came in second for sweepstakes. 
Teams from Mercer University and Oglethorpe University also competed. 
Gailey, after completing four rounds of debate with her partner Reed, felt like this tournament was good for the debate program. 
""This will certainly gain us a lot of notoriety," said Gailey. 
"It's a chance for Piedmont to grow competitively as a school and to get our name out there a bit more."
Janice Moss, professor of mass communications and faculty sponsor for Piedmont's debate team, began the debate program at Piedmont ten years ago and dreamed of one day hosting a tournament on campus. 
"It was always a dream of mine to sponsor an intercollegiate event such as this," said Moss. 
"I thought that it would be great to have our friends from other institutions come to here and compete. It was a huge success and it was definitely a team effort."