Leading Lion: Women's Tennis
Erin Krause
Senior, English major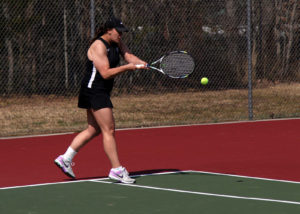 High School: Northview High School
Position: 3 doubles, 6 singles
Hometown: Johns Creek, Ga.
Experience: I've been playing tennis since I was about ten, but this is my first year playing competitively since I was 14.
What are your superstitions and pregame rituals? 
Before a game, I usually listen to music, but my favorite is when our team huddles and chants our "go" cheer. It never fails to make me smile. It's not exactly a superstition, but when playing doubles, I always like to high five my partner between every point.
Why did you choose PC? 
I chose to attend PC because I really loved the small size and atmosphere of the campus.
On the team, what has been your greatest memory? 
My greatest memory, so far, is playing Catchphrase on the bus. I don think I've ever laughed so hard.
What is your personal goal for this season? 
My personal goal is to keep working my hardest and give every match my all and hopefully get a conference win for Piedmont College tennis!
In Krause's first season at PC, she has won five of her first six matches in both singles and doubles.