It's Been a Controversial and Powerful Award Show Season, and it's Only Halfway Through

Award season is coming to an end, but the mark this year's ceremonies have left on the entertainment industry might last a little longer.
Comedian-actor Ricky Gervais kicked off the season by hosting the "Golden Globe Awards" for the fifth time, and he decided that he was going to spice things up. Gervais fulfilled every working person's secret fantasy of ripping their boss a new one just before handing in their resignation–only in this case, that unlucky boss was all of Hollywood. He comically criticized the privilege of actors and actresses, blockbuster films, as well as major names such as NBC and Apple.
"This is the last time I'm hosting these awards, so I don't care anymore," said Gervais as a disclaimer at the beginning of his opening speech. "I'm joking. I never did."
The controversy that sparked over that eight minute monologue has attracted the attention of many people who otherwise don't follow the awards. If that wasn't enough to really get people talking, many were less than thrilled that all nominees for Best Director and Best Screenplay of a Motion Picture were male, despite the number of successful women-directed films that were released during the past year.
The Grammys, however, were full of powerful female names such as Ariana Grande, Billie Eilish with six nods and Lizzo with eight. To top it off, the event was hosted by Alicia Keys, who is not only the first woman to host since Queen Latifah in 2005, but is also a 15-time Grammy-Award-winner herself. Some other names Keys got to announce were Lil Nas X who tied with Eilish with six nods, Camilla Cabello, Jonas Brothers and Tyler the Creator.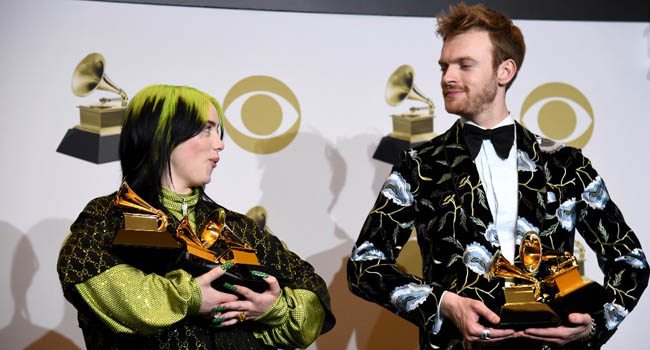 There were a few artists that weren't mentioned as much as fans would've liked. Swifties and ARMY seem to be especially disappointed after Taylor Swift's album "Lover" gained only three nods, and the international K-pop group BTS earned no nominations for their album "Map of the Soul: Persona."
With the Golden Globes and the Grammy's checked off the list, that can only mean that the Oscars are right around the corner. February 9 will mark the 92nd Academy Awards, and will not have any set hosts. This trend started last year after a series of would-be host Kevin Hart's decade-old, controversial tweets resulted in the comedian withdrawing from the position.
"NBC clearly don't care either," said Gervais in his Golden Globes opening speech. "I mean, Kevin Hart was fired from the Oscars for some offensive tweets — hello?"
Host or no host, the show must go on. The top nominated film this past year was "Joker" with 11 nominations including Best Picture, Actor in a Leading Role, and Directing. Other blockbusters with multiple nominations include "1917," "Parasite" and "Little Women." Be sure to tune in to ABC the day of the event at 8 p.m. to see your favorite films, actors and directors receive their awards.