The Piedmont College women's soccer team improved their season record to 3-2 after a dominant showing at the Bradford Classic. The Lady Lions hosted the tournament at the Walker Athletic Complex on the campus of Piedmont College, and defended their home turf.
After a rough start to the season, only winning one of their first three matches, the Lady Lions needed a strong weekend to turn the start of their season around.
While facing Averett University on Saturday, Sept. 7, the contest did not have a promising start. The Cougars jumped out to an early 1-0 lead in the fourth minute. However, Piedmont was able to respond as senior defender, Devin Haupt, was awarded a penalty kick, and was leveled the score in the 34th minute. From there, the Lady Lions went on to rout Averett, 4-1.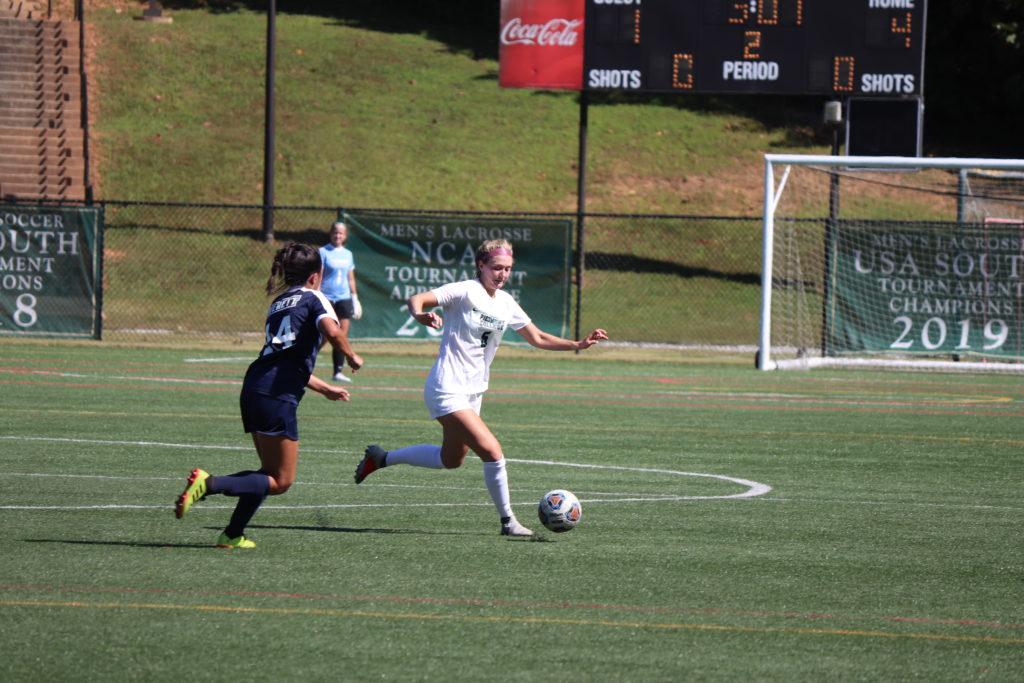 The following day, Piedmont was bested Guilford College, 1-0, on an early second minute goal from sophomore forward Amanda Weinhart. The pair of weekend victories for the Lady Lions was a productive start, but senior Devin Haupt feels the team is still growing into each other.
"We have a large group of new players and we are still trying to figure each other out. These first five games have given us an opportunity to build our chemistry before we start to play in conference games," said Haupt. "We have a lot of holes to fill from last season due to our seniors graduating, and I believe the new players will find their place in the next upcoming games."
As the team searches for an identity, some of the returning Lady Lions have found themselves in new positions and roles. Despite being the anchor of the team's defense, Haupt has seen time this year at forward. Junior defender Madison Hatfield also moved up the pitch during Sunday's contest against Guilford. Although the adjustments are new, the team has full confidence in their head coach, Timmy McCormack.
"It's definitely different, but I trust Timmy and I am willing to do whatever it takes to help my team win games this year," stated Haupt.
The Lady Lions have a pair of home games coming up this weekend. Piedmont will face Mount St. Joseph University on Saturday at 11 a.m. The Lady Lions turn around quickly and face the University of Lynchburg on Sunday at 11 a.m., where they look to get revenge on the team that knocked them out of the national tournament a season ago. Both games will take place at the Walker Athletic Complex on the campus of Piedmont College.