Court Denies Several Motions of Dismissal in Wainberg Lawsuit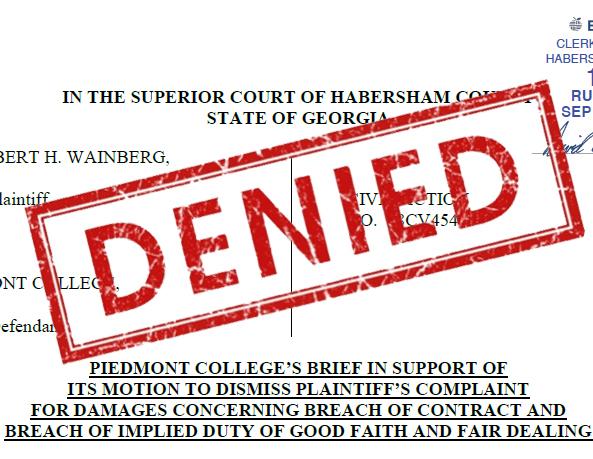 Several of Piedmont College's motions to dismiss and their motion to strike in the "Robert Wainberg v. Piedmont College" case have been denied. Piedmont College and former professor of Biology, Robert Wainberg, have been involved in a lawsuit since Aug. 20, 2018, which was filed by Wainberg on the grounds of wrongful termination. Wainberg also enumerated several other claims against Piedmont College and Piedmont College administration in the lawsuit.

Piedmont and Wainberg's first court date occurred on Dec. 11, 2018. Piedmont motioned to dismiss Wainberg's claims for attorneys' fees, punitive damages, breach of contract and breach of "implied covenant of good faith and fair dealing," as well as to strike all allegations that are "redundant, immaterial, impertinent, or scandalous" from the record, including claims that President James Mellichamp sexually harassed a male faculty member and a female student.

On Feb. 28, Chief Judge Russell W. Smith of the Habersham County Superior Courts denied all of Piedmont College's motions of dismissal except for their motion to dismiss punitive fees, which was granted.

"…where punitive damages are improperly plead as a cause of action, without any underlying action which would support such damages, that claim is subject to dismissal without prejudice," the file says. "It is, therefore, ORDERED, that (Piedmont's) motion to dismiss as to (Wainberg's) claim for punitive damages is hereby GRANTED. That claim is hereby DISMISSED without prejudice."

Much of Piedmont's initial defense against the lawsuit was based around the claim that Wainberg did not adequately identify the contract that was breached in his termination, and therefore he could not prove any form of misconduct. Judge Smith turned this argument down in his order, denying Piedmont's motion to dismiss the breach of conduct claim.

"(The Court finds) that the Complaint sufficiently alleges that the existence of a contractual relationship and that the termination of (Wainberg's) employment constituted a breach of contract," the order states. "This satisfies the minimal requirements necessary to provide notice of a claim under Georgia law. (Piedmont's) Motion to Dismiss (Wainberg's) Complaint for breach of contract is, therefore, DENIED."

Judge Smith also denied Piedmont's motion to strike "scandalous" allegations from the lawsuit.

"Whether or not it qualifies as a "shotgun pleading," the complaint in this case is not so lengthy or confusing as to defeat comprehension," the file reads. "…The Court is not able to determine at this time whether any specific allegations contained in the (original lawsuit) have 'no possible bearing on the subject matter of the litigation' such that it would be appropriate to strike them. Therefore, a Motion to Strike is premature as there should be filed, prior to the consideration of such a motion a particularized pleading identifying the specific provisions as to which objection is made. Defendant's Motion to Strike is, therefore, DENIED."
View the full order below: