Emily Pierce & the Lillian Smith Connection

"To believe in something not yet proved and to underwrite it with our lives: it is the only way we can leave the future open." This quote from Southern literary icon and past Piedmont student Lillian Smith encapsulates the overall goal that senior Lillian Smith scholar and present-day Piedmont student Emily Pierce is working towards during her college career.
Growing up, Pierce always kept a special place in her heart for helping others and community service. She was voted Miss Community Service two years in a row within the many pageants she took part in during high school and has participated in many a Compass program project, which maintains working to help better others and the working environment at its core.
"I was one of the few who was actually excited about Compass," Pierce said. "I came to Piedmont with a community service background, so that was one of the things that drew me in when I visited."
After Pierce took up a job in the now-retired Dr. Ashley Cleere's Chaplin office, the two got to know each other more, which led to Dr. Cleere presenting Pierce with an opportunity she couldn't refuse.
"We had a brief interview, get to know you kind of conversation," Pierce said. "She knew my interest in community service and my growing interest in social justice, and said 'hey, we're starting a new program, the Lillian Smith scholars program, and I think you should apply for it, I'll give you a recommendation'."
Lillian Smith was a writer and a well-known critic of the social climate of the Southern United States during the Jim Crow law era. Her most recognized work is her novel "Strange Fruit," originally published in 1944, which dealt with the then-taboo topic of interracial relationships. Smith attended Piedmont for one year in 1915, but the impact of her work and social commentary has left its mark on the college and the students who delve deep into her work.
"I googled Lillian Smith, who I had never heard of before," Pierce said. "I quickly found out she was this amazing woman who was writing about race issues. She was a white woman from the South who cared about these things, wasn't straight, and I hadn't had any voices like that growing up."
There are currently three Lillian Smith scholars, and Pierce was the first one ever chosen. To join this program, there are a few requirements one has to meet: a minor in social justice, taking the Lillian Smith studies course when it comes around on the catalog, completing portfolio activities and maintaining a 3.5 GPA. Though on the surface this may seem rigorous, the payoff of getting to know Smith has been more than enough for Pierce.
"As someone who has always been interested in literature, I'd never found a voice that sounded familiar," Pierce said. "There's a story about Alice Walker going to one of her professors and saying 'does anyone like me write'. It was a moment like that for me, the more I learned about her. I dove into the deep end, and I haven't really come back out."
As part of her senior capstone project as an English major, Pierce was given the opportunity to present a paper at the Southern Studies Conference that took place at Auburn University on Feb. 1-2. Her focus for her capstone is on Smith's novel "Killers of the Dream", and presenting a portion of what will be a twenty page paper at the conference proved to be a rewarding experience for Pierce.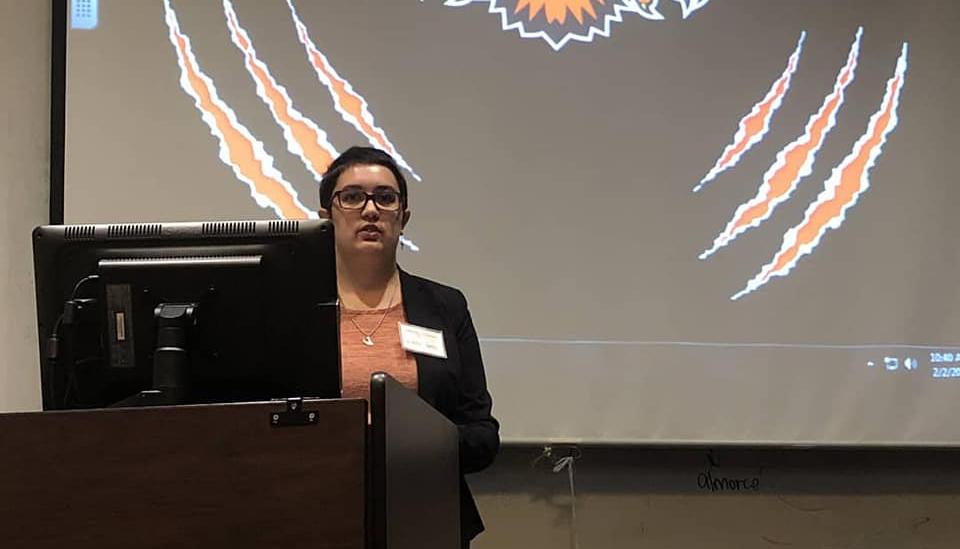 "Using literary trauma theory, I'm untangling how these large scale societal and historical traumas are affecting the personal and are repeated through each generation," Pierce said. "It was a really great experience. It's always a good feeling to look out in the audience and see people nodding their heads and taking notes, and to get good questions afterwards."
Pierce was accompanied on her trip by sophomore religion, history, and philosophy major Laura Platé, and the duo spent their four-hour road trip blasting music, and by night, shared deep, friendship cementing conversations. Although Platé is not a Lillian Smith scholar, she recognizes the impact that Smith has had on Piedmont, Pierce, and the South as a whole.
"I think it's really cool to know that the college I go to is connected to such an important figure," Platé said. "We don't really hear about her that much in regular history classes. She was a young woman that made an active choice to change things in her society, and took the steps to make sure the next generation would be different from the one that she grew up in."
A highlight of the trip for both Pierce and Platé was visiting the National Memorial for Peace and Justice, also known as the National Lynching Memorial, which is located in Montgomery, Alabama. The memorial invoked a powerful reaction within Pierce, one which she will not soon forget.
"That was intense," said Pierce. "The only other place where I got that same combination of emotions, the gravity of it all, was at Robben Island during my South Africa trip, having political prisoners saying 'this was my cell', I got the same vibe there. It wasn't crowded when we went, we got to take our time, but I would like to see the memorial crowded, I'd like to see tons of people there."
As Pierce continues to finish up her capstone, apply to graduate programs, and juggle all of the balls that are being handed to her as a near college graduate, she keeps the spirit of Lillian Smith close to her heart and allows Smith's voice to blend with her own when the odds seemed stacked against her. Being a Lilian Smith scholar is more than an academic achievement and her name on a plaque for Pierce; Lillian Smith is also a part of her identity.
"I was searching for someone like me who was interested in these social justice issues and helping other people," Pierce said. "To have a white woman talking about these issues when she did was astounding, and she was authentically and completely who she was. She was in the middle of these issues and was forgotten, and I think that's unfair to her for such an incredible voice. I just want to make sure other people have the same experience as when I found her, when she found me."