Wainberg v. Piedmont College: First Court Hearing Complete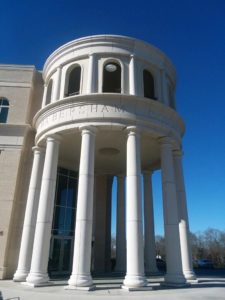 Piedmont College's attempt to get rid of a lawsuit filed by a former professor who contends he was wrongly terminated is now in the hands of a Habersham County judge.
Superior Court Judge Russell W. Smith heard arguments for and against the request on Tuesday. The judge is expected to issue his ruling in the coming weeks.
The suit was filed in August by Robert Wainberg, once a tenured biology professor who taught at Piedmont for three decades. He is alleging the college breached his employment contract without cause and is seeking unspecified damages and attorney fees from the school.
In the first court hearing for the case, Piedmont College attorney Barbara Marschalk argued that the lawsuit should be dismissed altogether.
"I've practiced law for 20 years," Marschalk said. "I've handled cases that have garnered media attention from local and state media outlets, and I've never seen anything like this in the 20 years I have been practicing."
The suit should be dismissed, Marschalk said, because it did not outline the specific ways in which Piedmont had wronged Wainberg. However, Smith suggested that Wainberg should be allowed to amend his complaint with more specificity. Marschalk then conceded that would be the best way to proceed, if the judge was not willing to dismiss the case outright.
"You gotta tell Piedmont College exactly what they did wrong," Marschalk said. "That's what we're asking. And to get rid of the nonsense… a lot of extraneous information about the sexual orientation of the parties and the Bolshevik revolution."
Wainberg's lawyer, Julie Oinonen, said she too had represented many high-profile cases in education. Wainberg's lawsuit was an "extremely well pled complaint," she contended, adding that the lawsuit "clearly outlines all the horrible things they did to him."
This includes the assertion that he had sexually harassed a student, she said.
"That's outrageous," Oinonen said. "He never did that."
A fair hearing with due process is required before a tenured professor can be terminated, Oinonen said.  But Wainberg was not given proper notice of his termination and was not interviewed by Title IX investigators, she said. Moreover, exculpatory evidence from students who came forward on Wainberg's behalf was not presented, and although he was entitled to review the evidence being brought against him in a timely manner before the hearing, Wainberg was given only a "paltry file" from which many crucial pieces were missing "at the 11th hour," Oinonen said.
Wainberg, she said, was made to sit outside the room where the hearing took place, and that it was "not fair, not impartial, and in violation of good faith and fair dealing." For these reasons, she asked the judge to deny Piedmont's motion to dismiss.
"It's the right thing to do under Georgia law," Oinonen said.
The judge, however, was not sure where Georgia law sat on the issue of Title IX.
"I'm embarrassed to have to ask this question, but I have to ask it," Smith said. "What is a Title IX complaint?"
Title IX is a provision of a 1972 federal law aimed at preventing sex discrimination on campus. It has become synonymous with sexual assault and sexual harassment claims in educational institutions for the frequent application of the law in those cases. Current U.S. Secretary of Education Betsy Devos made changes to federal policies for handling Title IX claims, aiming to provide due process to those accused.
"Assuming that I have any area of expertise, this is not it," Smith said. "But there should be some authority. Is there a specific procedure that is required by law?"
Oinonen stated that similar claims in Georgia have been brought against the Board of Regents, that there is Georgia case law that requires both proper written notice and questioning of the tenured professor before a decision can be made about termination. She held that Piedmont was not excused from the responsibility to handle Title IX claims in an equitable manner just because it is a private school.
"A Title IX officer did not conduct this investigation," Oinonen said. "An untrained member of the athletic department did. They questioned students and then withheld this evidence."
The judge said that dismissal was "an extreme remedy." He will issue an order, he said, in the next 30 days. If he declines to throw out the lawsuit, it will go into a period of discovery, in which both sides will obtain evidence from each other.
"We would ask that she be allowed to do discovery on the pertinent issues," Marshalk said.
While the college would like to have seen the lawsuit dismissed in court today, it seems that Wainberg's attorney is not done fighting on his behalf.
"We're very confident in this case and that justice will prevail for Dr. Wainberg."