A Glance at Jacquette: Profile of PC's Women's Lacrosse Coach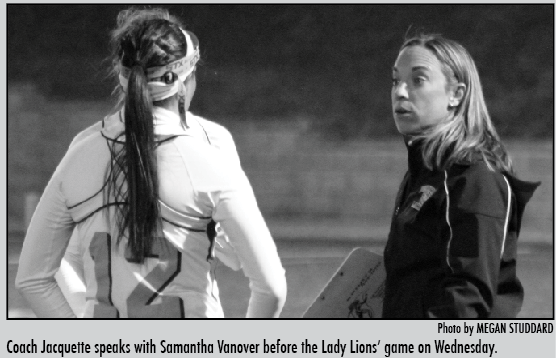 By HILLARY KELLEY
A&E Editor
Over the last six years, a picture that reads "Cherish yesterday, dream tomorrow, live today" has hung in every office that women's lacrosse coach Emily Jacquette has called her own. 
Today, it hangs on the wall of her office in the Johnny Mize Athletic Center to remind Jacquette of how important each part of the quote is to her daily life. 
Not only has Jacquette recently welcomed a baby girl into her family, she has also found room in her life to start the very first women's lacrosse program at Piedmont. 
Though her track record for starting up women's lacrosse programs and her own performance as a student athlete shows a love of sports, her enthusiasm for competition began as a child. 
"I remember playing in my neighborhood when I was 10 years old and always wanting to win the kickball game," said Jacquette.
"I've played sports my whole life since I was pretty much 6 years old, and I really don't know anything else."
Freshman lacrosse player Lexi Narducci knows that Jacquette is nothing short of encouraging in her coaching.
"After I scored the first goal, she yelled out 'lucky number seven Lex!' because my number is seven," said Narducci.
"She inspires us by constantly reminding us that we are a first-year team making history for the school."
Jacquette's coaching method comes from a drive of commitment to the sport. 
Her philosophy involves the idea that the players need to recognize a commitment to a sport means the individual should follow through as their teammates, school and coaches all depend on them. 
"You don't have to be the best player to be committed to the growth of your program and to be committed to being a better athlete," said Jacquette.
Though this sense of commitment helps with the success of players, each player, team or coach should create their own definition of success, according to Jacquette.
"We're excited to see [the women's lacrosse players] demonstrate their hard work in a setting that it really counts in," said Jacquette, just hours before the history-making first game on Feb. 20.
Jacquette's coaching, encouragement and commitment to her team resulted in a 19-4 win against the Agnes Scott Scotties and another big win of 16-5 over Meredith College on Feb. 23. 
With a record that strong coming out of the gate, her hard work at Piedmont seems to be paying off, and she gets to enjoy her home life, too.
"When I get home from work, I'm able to take that competitive hat off and put on my mommy hat," said Jacquette.