Going Mental: Priorities as a College Student with a Mental Illness

The "Going Mental" column consists of different topics and resources regarding mental health. These articles will mainly be about my own experiences with mental health, including my experiences with obsessive-compulsive disorder (OCD), anxiety, and attention deficit hyperactivity disorder (ADHD). With my column, I am reclaiming the term "Going Mental." When people read the name, my hope is that they think about the struggles people within the mental health community face.  I want my readers to know that they are not alone.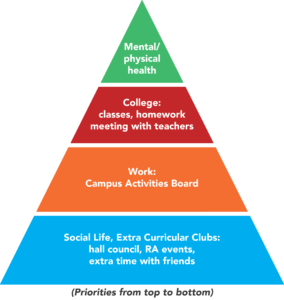 Advocating for mental health has given me an opportunity to turn some of my pain and struggling into purpose. Not only am I sharing my story by educating others, but I also help people who are living with a mental illness like I am.
Like any college student, I have to get a lot of things done. Sometimes I feel overwhelmed. In order to manage my life better, I've made a "priority pyramid." My top priority is to take care of my mental health and physical health. I have to take care of my health to do everything I need to do well.  Whether people have a mental illness or not, we should all take care of our health, because it helps in the long run.  I take care of my mental and physical health by going to doctors, talking to a therapist, being surrounded by people, being outdoors, and advocating for mental health.
My next priority is my education.  This includes my classes, homework, meetings with professors, and meetings with on-campus services. When I stay on top of my school work, it helps my mental health because I don't get as overwhelmed.  Fortunately, all of my professors are helpful and understanding, and I like my classes—they're mostly within my major.  My Mass Communications classes have also helped my mental health because some of these classes have allowed me to advocate for mental health.  For example, I took an advanced writing and reporting class last semester, in which I got to write mental health articles.  These articles covered topics such as how celebrity suicides affect people with depression and how Piedmont expanded their counseling services.
My third priority is work.  I work for the Campus Activities Board (CAB).  My job helps my mental health because I am surrounded by positive coworkers and I get to help with events that I love. My final priority is my social life. My social life includes being the Marketing Officer on the Hall Council for Mayflower, spending extra time with friends, attending campus events, and online entertainment.
I have found that if I structure my priorities like this, it will ultimately benefit my mental health, and I'll be able to succeed.