STUDENTS AFFECTED BY HOUSE FIRES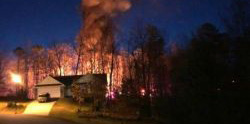 Two members of the Piedmont community, one current student and one Piedmont alumnae, were both devastated by fires that led to the loss of their family homes over the past two weeks.
Martha Haynes graduated with a Bachelor of Arts in Psychology from Piedmont in 2016. Over Easter weekend, her Clarkesville home burned to the ground. She and her husband, Randy Garrett, escaped the fire unharmed, but lost their animals in the fire. Music professor Dr. Andrea Price, who lives in the same neighborhood, said the cause of the fire was not known.
"It was massive and was so scary," Price said. "Martha and Randy are both fine."
Randy's son Levi Garrett, who also lived in the home, had already left for work when the fire started in the early hours of Saturday, March 31.
"My house (is) burning down right now," Garrett posted on his Facebook page at 6:23 that morning.
For now, the family is staying in the home of Clarkesville veterinarian Dr. David Wonders, who lives on the property adjacent to the home that burned.
"(He) had purchased another home on the same road to house his ailing father-in-law, who died this past fall," Price said. "Dr. Wonders and his wife, Paula, have graciously allowed Martha, Randy, and Levi to live in that house until they can figure out what's next."
Earth science professor Dr. Debra Dooley started a GoFundMe page to help raise money for Martha's family. The site has raised over $1000 so far.
"Donations may still be made," Price said. "They still need so much help!"
Piedmont students and staff may continue to donate money at https://www.gofundme.com/martha-hayes-house-fire.
"It was a complete loss," Dooley said on the GoFundMe page. "Please continue to keep the entire family in your thoughts as they put the pieces back together."
In another totally destructive house fire this past weekend, a first-year Piedmont student and athlete lost her family home as well.
Sloan Fletcher is a freshman exercise science major and member of the women's track and field team from Pike County, Georgia. Her family lost everything they owned, including her brother's dog, in a fire that destroyed their house on the night of Saturday, April 7.
"They literally lost everything," SGA president Kanler Cumbass said. "They weren't home during the house fire. They didn't have the opportunity to grab any of their belongings. Sadly, this included pets."
On behalf of the Student Government Association, Cumbass said he reached out to the offices of the vice president and campus minister to see what can be done here on campus to help the family.
"I spoke with Sloan briefly and she said that her community was making efforts to help provide resources for her family," Cumbass said. "I'm waiting to hear about what I can do. I would love for this to be a campus-wide effort to provide aid, to be a benefit to her and her family in any way possible. She is a very involved, kind student."