One of a Kind Passion: Fitness instructor provides motivation for PC students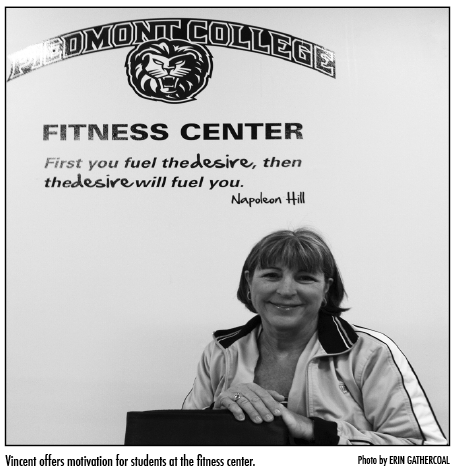 By ALEXANDRA SMITH
Contributing Writer
It's a Thursday night at 6 p.m. and in the Fitness Center, Ms. Denyse Vincent's voice echoes through the hallway leading to the Group Fitness Room. She is instructing her 20Pylo 40Pilates class with encouraging remarks mixed in with directions for the moves. 
She moves along with her class, and her upbeat voice causes students to push through the workout. Students get that last move in. Tired and dripping with sweat, students break for water. Vincent prepares for the next section while praising her students for the progress they are making. 
As Vincent has developed her fitness program, she has realized that in order to be successful, the fitness center needed to go beyond just working out and target the individual as a whole. 
"I realized that we needed to address the campus as a whole instead of isolating just fitness or just diet or just stretching or just group fitness," said Vincent. "I came up with the Lite Lion program. It has kind of been a dream of mine and it has now come to fruition because now we have over thirty people participating in the Biggest Loser competition."
Vincent is able to help personalize student's fitness regime, which gives the student the choice of what they get out of it. If a student needs a lot of encouragement, Vincent is the biggest cheerleader. If a student would like to do so more privately, she will respect that decision.
Student fitness instructor Ashley Rodriguez said, "Just like she pushed and motivated me, she has also done the same for other students. I think if it wasn't for Denyse's positive attitude and great gym atmosphere, the gym would be a little dull."
Denyse Vincent has spent countless years helping people find a passion for fitness. 
She found her passion for fitness and began work at a local gym. She did this for many years before she moved to the Clarkesville area where she began to work for Habersham Medical Center, in their fitness center. The medical center's fitness area was, at the time, housed in the Jonny Mize Athletic Center, on Piedmont's campus. 
When the medical center and the college went their separate ways, Piedmont College asked Vincent to come onto staff as the fitness center coordinator. 
In August of 2011, Piedmont College opened its fitness center exclusively to Piedmont students and staff, in the interest of the students. It was a new path where Vincent was able to find a new passion for the students whom she served. 
As Vincent developed the fitness program on campus, she also found students with great leadership qualities for fitness instructors and urged them to get certified as fitness instructors. 
Elaine Rossignol said, "Denyse has a wonderful manager-worker relationship with all of her employees because she is a professional, friendly, and lively woman to be around, and she is passionate about her work."
The fitness center now has two student leaders, Ashley Rodriguez and Olivia Swisher, who teach the classes for the fitness center. 
They also just added a new student who went for certification, Carsey Pilcher, and she is also beginning to teach some classes for the center. 
"Ms. Denyse is a great motivator. She has always been the type of person to push me and tell me that I can do it. If it wasn't for her I wouldn't have got my group fitness certification this past summer," said Rodriguez. 
"She saw my potential and encouraged me to take it further and get a certification. I love my classes and if it wasn't for her, I wouldn't be getting that enjoyment throughout the week."
Vincent attributes the fitness center's success as a group effort, with the student services staff on board with it and doing everything they can to support it. 
"I love fitness and I want to share my love for fitness with everyone else," said Vincent. 
When asked what she loves most about her job, she answered quickly: the students. Vincent hopes to instill the passion for fitness that she enjoys and also wants to be a person that the students feel comfortable coming to with any questions or concerns. 
"Ms. Denyse is a wonderful woman with so much to offer," said Swisher. "She is approachable and so easy to talk to. If you ever need assistance with anything, swhe is always there to help, no matter the circumstance!"
Rossignol said, "She welcomes new ideas and fun classes, and always has a motivational smile across her face."
Vincent looks forward to continuing her impact on the campus and hopes that she can help students find a passion for fitness for many years to come. 
Rodriguez said, "Denyse's passion is one of a kind. She still kicks butt in the gym and teaches her workout classes like a champ. She loves life and everything about life–including her students, employees, and the gym."