"WHEN SHE HAD WINGS" REVIEW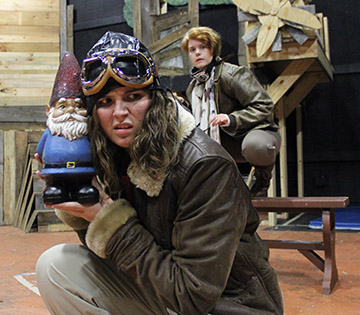 Piedmont College Theater has been hard at work on their latest show and now it is finally ready to fly. "When She Had Wings" premieres Nov. 16 and it is full of whimsical acrobatics, delightful humor and will fill the audience with childlike wonder.      
"When She Had Wings "is about a young girl named B, who has been trying to remember how to fly since she was a little girl. She remembers doing it as a baby, but now that she is just shy of 13, she believes she'll never be able to fly again.  
B is played by sophomore Marion Mealor, who previously played another little girl in Still Life with Iris. While watching her perform, you almost forget that Mealor isn't actually a preteen.  
Her mannerisms and delivery make her appear on stage as the young girl she portrays. Her character struggles with weight issues and connecting with her mother, something everyone has gone through at some point in their adolescence. Mealor is able to make the audience sympathize with her character as well as slipping in a few jokes here and there. 
After a terrible storm, B finds a strange woman in her treehouse. The woman only speaks in squawks, which leads B to believe she must be some kind of avian creature. After spending a day with the woman, B realizes that the woman could be the lost pilot Amelia Earhart.  
After all, how could this strange woman know the call numbers of Amelia's plane. The strange woman, who is later named A, is played by junior Cheyenne Turner. Turner has appeared in the last children's show at Piedmont, "Seussical," as the Cat in the Hat.  
Turner doesn't have much dialogue so much of her acting is shown through facial expressions and motion. Throughout the show, A slowly acquires language and her relationship with B grows.  
Mealor and Turner's stage chemistry is very strong and the audience can see a true bond between the two. A's true identity is a mystery throughout the show, and if you want to figure out who A really is, you have to go see it. 
A lot of the comic relief in the show comes from B's eccentric Dad, played by senior Levi Randall Doublet. Doublet has been in several Piedmont productions, but most recently portrayed Big Jule in "Guys and Dolls." Dad's very passionate about his garden, especially his garden gnomes.  
He tries his best to be a good single father to his struggling daughter and reassures B throughout the show that he loves her just the way she is. Doublet's performance touches every heart in the audience, especially the parents, while making them laugh all at the same time. 
The rest of the cast is the angels and Attendant. The angels are played by junior Kaitlyn Echols, junior Dashawn Crawford-Thomas and guest performer Nikolette Anais. Anais is a trained circus performer and performs the more difficult acrobatic stunts. The angels provide the magic in the show through their beautiful movements and their role in B's imagination. 
Attendant is played by freshman Cheyenne Welbourn. Welbourn also appeared in the ensemble in "Guys and Dolls," making this her second performance at Piedmont College. Attendant has a small role in the play, but gives a huge hint towards A's true identity. Her role in the show may be small, but so important for the development of the story and A's character. 
"When She Had Wings" is full of heart and breathes life into every character. The story of a young girl who longs for freedom and finds friendship in her idol. Director Kathy Blandin has put together a moving show that tugs at the heartstrings and will leave the audience with a feeling of childhood nostalgia and wonder.  
When She Had Wings premiered on Nov. 16 at 7:30 p.m. in the Piedmont Blackbox Theater. It runs from Nov. 16-18 at 7 p.m. and on Nov. 19 at 2 p.m.