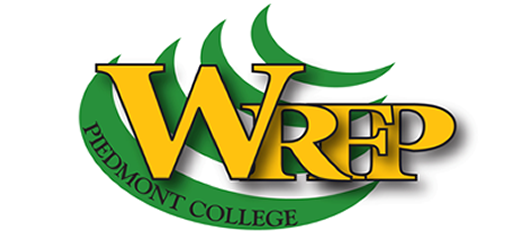 black_history
Transcript of interview below.
HELLO. KJ MCCOY HERE WITH WRFP THE STUDENT RUN RADIO STATION AT PIEDMONT COLLEGE. I AM HERE WITH JUNIOR MASS COMMUNICATIONS MAJOR WESLEY CAMPBELL. TODAY WESLEY AND I ARE GOING TO BE TALKING ABOUT BLACK HISTORY MONTH AND THE PROGRAM THAT IS TAKING PLACE ON FEB 21.
THANKS FOR JOINING US TODAY WESLEY. HOW ARE YOU?
Q) HOW DO YOU FEEL ABOUT BLACK HISTORY MONTH?
A) I LOVE IT. I CELEBRATE IT THE ENTIRE MONTH THROUGH VIA FACEBOOK. HISTORY STUFF. EVERYDAY. YOU KNOW I JUST LOVE CELEBRATING THE AFRICAN AMERICAN COMMUNITY.
Q) AS AN AFRICAN AMERICAN, DOES YOUR FAMILY PARTICIPATE IN BLACK HISTORY ACTIVITIES?
A) VERY MUCH SO.
Q) WHAT ACTIVITIES HAVE YOU AND YOUR FAMILY DONE?
A) WE DO USUALLY EVERY YEAR. ALVIN ALLY WILL COME TO FOX THEATER AND YOU THAT'S ONE OF THE FIRST BIG DANCE, AFRICAN AMERICAN DANCE COMPANIES AND WE USUALLY GO SEE THEM. ME AND MY DAD WHO, I AM ADOPTED, SO HE IS WHITE. SO HE DEFINITELY MAKES SURE I STAY IN INVOLVED IN ANYTHING AFRICAN AMERICAN RELATED.
Q) WHO DO YOU BELIEVE IS THE BIGGEST BLACK HISTORY FIGURE TO YOU AND WHY?
A) MOST PEOPLE WOULD SAY BARACK OBAMA AND I WOULD AGREE, BUT MY DREAM PERSON IS OPRAH. I LOVE OPRAH I WANT TO BE OPRAH. I WANT TO HAVE THE POWER OF OPRAH. I WANT MY SHOW LIKE OPRAH. SHOUT OUT TO OPRAH.
Q) SO I HEARD THERE WAS A PLAY AT PIEDMONT. WHO IS THE DIRECTOR AND WHAT IS THE NAME OF THE PLAY?
A) WELL, ITS MORE OF A PROGRAM. ITS A CELEBRATION OF AFRICAN AMERICAN HISTORY FROM THEN TILL NOW. FROM AFRICA TO SLAVERY THROUGH ALL THE WAY UP TILL NOW TIME. IT WAS ACTUALLY A COLLECTIVE EFFORT IN TRYING TO GET THE PROGRAM OFF THE GROUND. WE TRIED FOR THE PAST TWO YEARS, MY SOPHOMORE AND FRESHMAN YEAR. THEN PEOPLE GOT LAZY BUT THIS YEAR WE HAD SOLID PEOPLE THAT WERE JUST LIKE, LETS ALL DO IT. NICKI JOHNSON IS KIND OF THE PERSON THAT WAS MAINLY ORGANIZING EVERYTHING TO MAKE SURE EVERYBODY STAYS ON TRACK AND STAYS FOCUS TO MAKE SURE IT ACTUALLY HAPPENS THIS YEAR.
Q) WHAT WAS THE INSPIRATION FOR THE PROGRAM?
A) UMM WELL ITS VERY FEW OF US BROWN PEOPLE ON CAMPUS. AND WELL. I COME FROM A SCHOOL THAT ALWAYS CELEBRATED BLACK HISTORY MONTH THROUGH SOMETHING. AND WE DIDN'T REALLY HAVE THAT HERE, SO WE THOUGHT THAT IT WAS VERY NECESSARY THAT WE KEEP WHERE WE COME FROM AND THE REASON WHY WE ARE HERE IN MIND THROUGH THIS
CELEBRATION.
Q) WHO ARE THE MAIN STARS IN THIS PROGRAM?
A) I WOULDN'T SAY THERE WAS ANY MAIN STARS JUST BECAUSE WE'RE ALL WORKING HARD AND WE ARE ALL BRING SOMETHING DIFFERENT TO THE TABLE. LIKE I AM DANCING TWICE BECAUSE THAT IS MY NICHE. WE HAVE SINGERS THAT ARE SINGING IN THE SHOW WHICH IS THEIR NICHE. WE HAVE POETRY GOING ON IN THE SHOW, WHICH THAT IS SOMEBODY ELSES NICHE. SO NOBODYS, THERE IS NO ONE THATS LIKE A PROMINENT FIGURE IN THE SHOW.
Q) WHO ARE SOME OF THE FAMOUS PEOPLE IN THIS PROGRAM?
A) WE COVER OPRAH CAUSE WE HAVE TO. WE COVER BARACK OBAMA, MARTIN LUTHER KING, LANGSTON HUGHES, HARRIET TUBMAN IN THE BEGINNING AND JUST A LOT OF PEOPLE. IT IS A LOT OF FUN FACTS THROUGHOUT THE SHOW THAT LEAD INTO A DIFFERENT PART OF THE SHOW.
Q) YOU'RE THE CHOREOGRAPHER FOR THIS?
A) I AM.
Q) HOW HARD WAS IT TO MAKE DANCE MOVES FOR THIS PLAY?
A) IT ACTUALLY IT WASN'T AT ALL JUST BECAUSE IT WAS FUN. YOU KNOW IT WAS, WE WERE SO EXCITED ABOUT GETTING THIS TOGETHER THAT I FEED OF THE ENERGY OF ALL THE PEOPLE AROUND ME AND THE BIGGER CAUSE OF WHAT WE WERE DOING THIS FOR. SO WHEN I CAME UP WITH THE CHOREOGRAPHER THAT GAVE ME THE SONGS AND IT WAS EASY TO JUST MOVE TO IT. AND THEY LOVED IT SO ITS NOT AS HARD AS NORMAL CHOREOGRAPHY WOULD BE.
THAT WAS JUNIOR MASS COMMUNICATION MAJOR WESLEY CAMPBELL. COME OUT AND SEE THE PROGRAM FEBRUARY 21 IN BROOKS HALL AT 7PM. REPORTING FOR WRFP THE STUDENT RUN RADIO STATION AT PIEDMONT COLLEGE I'M KJ MCCOY.