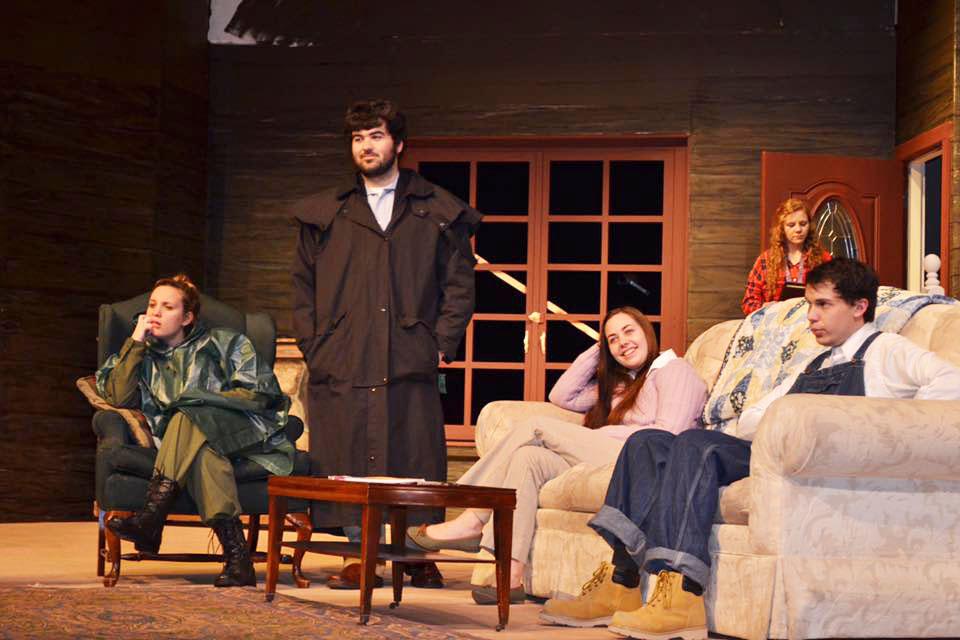 LAUREN BARTLETT/ Publication Chief
The Piedmont College Department of Theater presented their first show of the spring semester when they brought a hilarious and entertaining comedy to campus. "The Foreigner" opened Thursday, Feb. 9 on the Swanson Center Main Stage.
The set for the show was hand-made by students in the theater department to look like a cabin in the middle-of-nowhere, Georgia. It took up majority of the main stage by being filled with rustic home décor, cabin furniture and even a mounted deer head. The set put the audience members in the right mindset for the show by all of the personal touches that made the cabin scene very realistic.
The plot of "The Foreigner" was about a British guest named Charlie, played by freshman Tyler Vandiver, traveling with his friend, Froggy, played by freshman Caitlin Fisher. The two friends visit the states for Froggy's work and end up staying in a small town in Northeast Georgia for a few days. At the beginning of his stay, Charlie is very shy and doesn't typically like interaction with anyone so Froggy tells everyone that Charlie can not speak or understand any English.
This led to secrets becoming unraveled when everyone thought Charlie couldn't understand what they were saying, but also made for some humorous moments. Each character brought a level of uniqueness to the show. Husband and wife, David and Catherine played by senior Zachary Grizzle and sophomore Ansleigh Harrison, struggled toward a perfect life together. However, they eventually found out that family is very important and that money can't get you everything.
The cabin owner, Betty, played by junior Brecken Watts and Ellard, played by freshman Milner Martin are also thrown into the mix of the hush-hush household. Betty is a hilarious older southern woman who didn't seem to be afraid of anything. She found part of her youth again through Charlie's presence and loved having him around.
Ellard was portrayed to be a young, slow-witted boy whose innocence always shed a little light on any situation. At first, Ellard was portrayed as senseless, but later proves that he is not as dull as he seems. Martin said that he had to give a lot of thought into playing Ellard. "Director Spiegal challenged me to play him [Ellard] as autistic, not stupid," said Martin.
An unlikely friendship is struck between Charlie and Ellard not long after Charlie is a guest there.
"When Ellard meets Charlie, Ellard finds his calling when he feels like he is finally doing something right, and that would be teaching Charlie [to speak] English. Ellard gets out of his bubble, and shows everyone how smart he really is."
As more and more secrets become unraveled in the house, Charlie takes it upon himself to try and fix all of the problems. In the midst of all the laughter and chaos, Charlie ends up finding himself to be a little more confident and funny than he ever thought before. In the end, this small cast of six turned a hilarious comedy into a great message that was refreshing to watch.
John Spiegel, theater professor and director of "The Foreigner," started working on the show at the beginning of January. Spiegel said that he thought the audience on opening night seemed to enjoy the show.
"They [the cast and crew] were true professionals who made the department generally, and me specifically, very proud," said Spiegel.