Cycling Team Rides to Success
MARK TATUM Sports Editor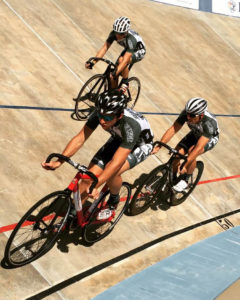 In just its first year as an athletic program, the Piedmont College Cycling team is already going places. The program has seen immediate success, bringing home six championships from the Track Nationals in the month of September. Head coach Jame Carney is a big factor in the Cycling program's early success.
Carney has competed in Olympic events held in Barcelona, Spain and Sydney, Australia. Carney also helped coach the U.S. Cycling Team in Rio de Janeiro, Brazil. Last November, Athletic Director Jim Peeples announced that it would be expanding its athletics to include men's and women's varsity cycling, the 18th and 19th sports offered by Piedmont College.
Carney was hired shortly after and has since set the foundation of the program with a new facility and exceptional equipment. Jessica Prinner, a graduate student who is pursuing her Masters in Business, was already very familiar with Carney prior to this season. Carney was Prinner's coach for four years before coming to Piedmont and most notably collaborated on the U.S. Elite team. She credits the team's accomplishments on having a very good group of varsity riders.
"Coaching the tactical abilities of the riders is what makes a big difference," said Pinner. T
he Cycling team will complete its season of mountain bike events with the USA Cycling Collegiate Nationals held in Snowshoe, West Virginia before moving on to the Cyclocross competitions in November. The cyclocross events will be a combination of mountain biking and obstacle course races. Carney and the cycling team hope to spread the word about their cycling club, which is open to current students even if they are new riders.
"We want to be competitive as a group, but we also want to be social," said Prinner. "The social aspect of cycling is important." If any students are interested in joining the Cycling club, contact Jessica Prinner at [email protected].