Nursing Students Experience Disaster Drill – Disastrously Educational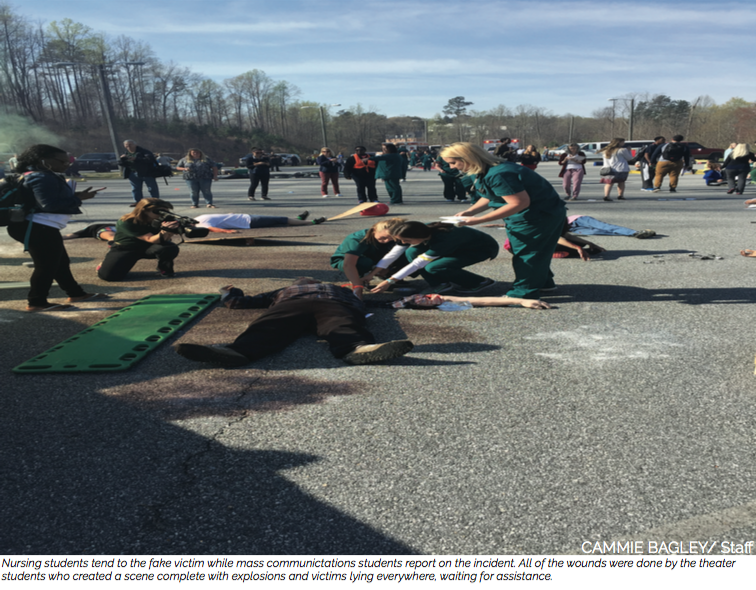 JAMIE DOUBLET
Contributing Writer
Emergency response teams, ambulances and a helicopter crowded Piedmont College on Wed., March 10, as students laid in heaps on the street covered with blood.
Contrary to this description, there was no emergency. The chemical spill that was reported through an emergency alert was actually Piedmont College's annual Disaster Drill—an event designed to give graduating nursing majors a chance to experience a disastrous emergency and apply their four years of studies to a life-like event.
"I was here when the first nursing program came through," said Dick Martin, a Piedmont College campus police officer.
"Now, we've got over seventy participants. It's a much bigger deal every year."
Every year, the growth of the event and its success are marked by predecessors who have kept the excitement of the learning day alive. The union of Piedmont College's nursing department and theatre department fosters a good repartee between the programs, according to professors.
On the morning of the drill, theatre students arrived at the Swanson Center to prepare for the groups of nursing students.  In order to achieve realistic wounds, theatre products, including latex and copious amounts of homemade blood, were applied to the students' bodies.
"I helped to put on prosthetics. I did all of the shrapnel work—it wasn't always pretty because we had so many students to cover." Cheyenne Turner, a freshman theatre major, said while holding a bottle of blood on the scene.
"Henry Johnson, our technical director, made shrapnel latex prosthetics, and we applied them using spirit gum. After that, we put on the bruising and burn make up and the blood."
The special effects that are common in the Theatre Department might seem to be a step away from normalcy for participating nursing majors, but Sara Walker—a junior nursing major—said she was just excited to see what their treatments would be.
"Some people who got more simple injuries like me actually wanted more blood and gore, but I want to see how they'll treat a pregnant lady. I'm seven months pregnant with abdominal pain and pre-term labor," Walker said.
John Spiegel, a professor in the Theatre Department, helped in creating a serious and treacherous scene.
The creation of the accident was crafted by juxtaposing his truck with technical director Henry Johnson's truck, as well as utilizing smoke bombs to give off a chemical substance explosion.
"We provide the pyrotechnics and explosives. The first one I did was at Daniel Hall. A tornado hit campus—we had limbs stuck in people. It was cool." Johnson said.
With all of the smoke, the spectacle was large; but, emergency response teams, local county sheriffs and fire departments were all notified of the incident.
The reality of the event's severity was enlarged by the presence of officials, according to several participating students.
"We're here to control access. We are called- 9-1-1 would call Piedmont, and then we'd be reached to come in and do crowd control," Robin Krockham, a Demorest police officer said.
"This event was covered by a local reporter; it's reinforced by several local officials and emergency responders..
"I've seen real accidents happen like this, so I do think it's useful for these guys to get to know that this could be a real thing," said Martin.
The college annually produces this event. Next year, the participating junior nursing majors who were victims this year will be the nurses assessing the damage next year.