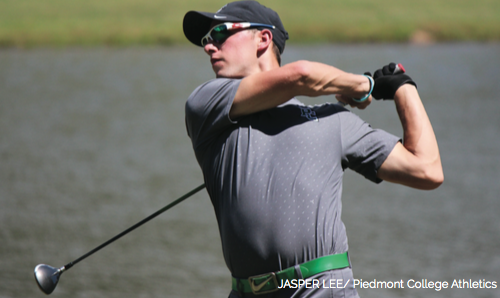 AMANDA BLACKWELL
Staff Writer
The golf teams' spring seasons are coming to a close as the semester winds down. The men's team qualified for the USA South Conference Tournament, finishing fifth and making the nine team cutoff. The women's team has just one more invitational to play in Fayetteville, North Carolina.
Starting the spring season off, the men competed in the Callaway Collegiate Invitational in Pine Mountain, Georgia. The men finished 12 of 17 teams and were led by veteran third-year player Jake Forbes with a 74.
Then, the team traveled to Jekyll Island for the Jekyll Island Collegiate Invitational. At this tournament, the men tied 14 out of 30 with a total of 886 over three days, only 27 strokes behind the winner, Lagrange College.
Back on the road, the men traveled to Alabama for the Wynlakes Intercollegiate. The men finished 6 of 12 to finish the spring season.
"The team is doing [well]. For the first time in school history, we made the cut at Jekyll Island," said Forbes. "We placed 18 out of 28 teams, and, then, we finished 16 at Huntington, so that's pretty good."
The Lady Lions started the spring season in Pine Mountain, Georgia in the Callaway Collegiate Invitational and finished 14 out of 16. The ladies also traveled to the Jekyll Island Collegiate Invitational. They tied for twelfth place on the first day but dropped to 17 out of 30 by the last day of the tournament.
"This spring season, we have really come together as a team and have been posting some good scores," said third-year player Ashton Mamula.
The women's team travels to the Methodist University Invitational on April 9. For more information about this invitational and the others that the two teams competed in, visit the Piedmont College Athletics Website at piedmontlions.com.
UPDATED-CORRECTION April 8, 2016
In the original version of this story and the version appearing in print, The Roar reported that the men did not make the cutoff for the USA South Conference. They are ranked fifth in conference and thirty-fourth (golfstat.com) in the nation. The fifth seed in conference does qualify to participate in the USA South Conference championship.