Leading Lion: Piedmont Softball
Megan Kesler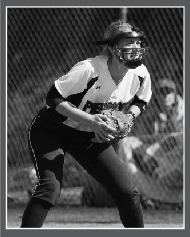 Senior, early childhood
education major
High School: Madison
County High School
Position: First base
Hometown: Colbert, Ga.
Experience: Started playing
t-ball at five and fastpitch at seven
What are your pregame rituals and superstitions?
Praying before the game and reciting Philippians 4:13 before every at bat. I wouldn't consider it a superstition, but I always put my left sock and shoe on first.
On the team, what has been your greatest memory?
Getting 2nd at regionals in New York my sophomore year and getting the opportunity to play for my dad for 2 more years.
What is the best part of being a member of the team?
Being able to pick up your teammates when they aren't having the best day and them doing the same in return. It's good to know someone has your back.
What is your greatest personal achievement?
What is your personal goal for this season? To be successful and make it far as a team.
During the 2011-2012 season, Kesler had 75 at-bats, 17 RBIs, and 19 hits. She also had 144 put outs and five assists. Her field percentage reached .987 by the end of the season.