How We Met… Stories & relationship advice from Piedmont's Professors
Contributions by Lauren Bartlett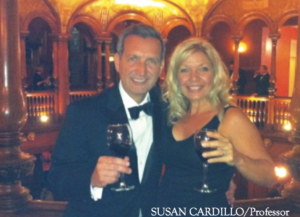 Mass Comm Professor Susan Cardillo with her husband, James
I was living in Los Angeles.  Every week I would meet my friends at a restaurant named El Torito and we would meet each week at around 5p.m.
I had been doing this for about a year. On night, I had to stop for gas on the way to El Torito so I got there early, around 4:45p.m.  I sat at a table awaiting my friends and there were two men at the table next to me.
One of those men was James. My friends arrived and we started chatting and James came over to the table, leaned over and put his arm around me and said, "Don't we make a great couple?" and I responded, "Yes, if we were in a sit-com!" That started a conversation that has lasted 16 years.
He told me that he had been coming there every week for a year but left by 5pm and I told him that I had been coming there but not getting there until 5p.m.
He walked me to my car that night and asked me if I would go out with him for his birthday the following week, I said yes and gave him my number.  I was an actress in Los Angeles, so, I was waitressing the night of his birthday and had to take the night off, which would cause me to lose $200 but I thought he might just be worth it.
I waited all week for him to call, and on the day before, he finally called and was not talking about meeting up.  I finally said, "well, what are you doing for your birthday?" and he said, "Well, I was thinking about staying home and meditating (typical Californian!) Well, I got a bit upset with this and said, "Oh no you aren't, you asked me to go out with you, I took off work…so you are going out with me."  And he did.  And we have been together ever since.
My only advice is things are going to happen in their own time.  Just live your life and when the right time comes, he/she will be there and you will be ready.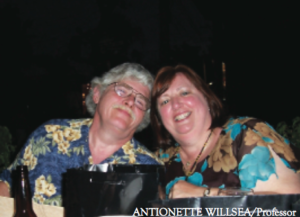 Nursing Professor Antionette Willsea and husband, Wendell. 
In 1969  I was set up on a blind date by my sister with someone named Wendell. For her to reach out to me for a double date was odd; we did not get along well.
Wendell and I were married about 18 months later.  We never went on double date with my sister again, but often did with his friend.
In 2016, we will have out forty-sixth wedding anniversary.  We had a child born on Valentines day, so this hallmark holiday has an extra meaning for us.
My advice for relationships are, trust and communication are key.  Talk to each other, share your likes, dislikes and fears. Start now.
Marriage is a partnership complete with give and take.  Sometimes you give, sometimes you take.  Try not to fight over silly things.  An argument should be over something important, like buying a house, having children, so skip the small stuff.  If it won't matter next week, why are you fighting?
You cannot change someone.  You get who you marry, basic character and life habits will not be changed.  If you marry a smoker you will live with a smoker.
Be a couple, even after children.  Have a date night at least once a month, take a vacation without children at least once a year, even if it is 3 days.
Share all home chores.  This is the 21st century.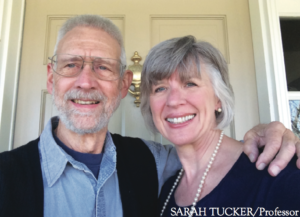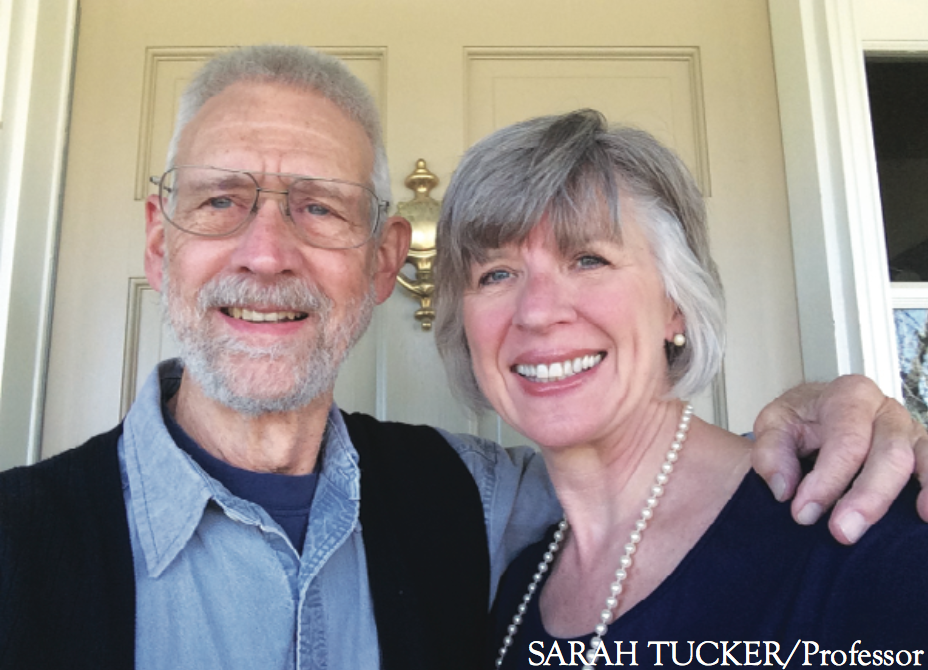 Education Professor Sara Tucker and Education Professor, Hilton Smith
S: Two Piedmont College students were our cupids!  Kristen Schaeffer and Krystal Stafford both class of 2000, encouraged Hilton to ask me out on that first date in Oct. 2003.  Hilton invited me to go to the annual Foxfire Festival, which was that year held in Mountain City.
H: The fact that Sara was an educator, gave the prospect two positives: We would have something in common, plus I'd see how she reacted to the festivle.
S: Our first date was perfect. It was a fall day in North Georgia—clear, blue skies, mild temperature, and take-your-breath-away fall foliage. I headed for Hilton's and he invited me into his home, and I was late. When I stepped over the threshold, I was still babbling my apologies, but I immediately fell silent.  There was something about his living room—so tidy, with a fire glowing in the woodstove, shafts of sunlight streaming through a window, beautiful jazz playing softly on the stereo.  It felt as if I had stepped into a different universe. Hilton then asked me if I'd like a cup of tea. I said that I would, so we went to Hilton's kitchen.
H: Sara sipped the tea appreciatively, thoughtfully. A good sign.
S: Our conversation was easy and enjoyable. In the afternoon, we went for a hike and I said something about "meeting the right person."  I remember that Hilton stopped walking and turned to look at me and said something I've never forgotten.  He said, "You know, instead of thinking about meeting the right person, maybe it would be better to think about constructing the right relationship." This was the first of many "ah ha" moments that are precious gifts from Hilton to me.
Our relationship adive would be read aloud-together everyday. It is illuminating and creates a shared literate history that enriches conversations immensely, keep a gratitude journal. Writing the things for which we are grateful puts bothersome difficulties in perspective. Do things together: cooks, clean, garden, travel, listen to music, talk, love. Take care of each other.