Conference rival Ferrum falls in Cave Arena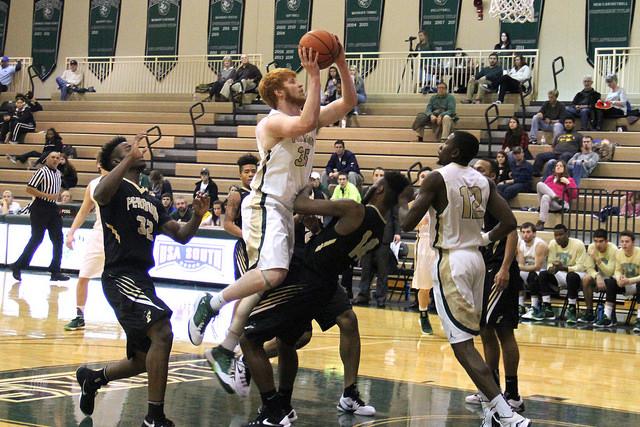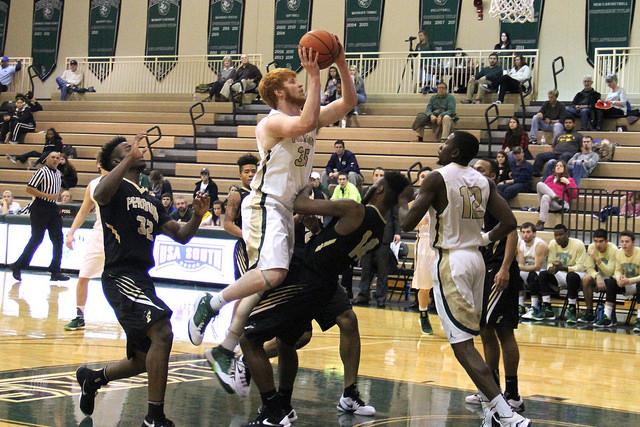 JANIE HARRIS
Editor-In-Chief
Conference rivals reunited on the hardwoods of the Cave Arena in the Johnny Mize Athletic Center as the Piedmont men's basketball team faced Ferrum College on Sat. Jan. 23. The Piedmont Lions came out victorious, winning 65-62.
"We had really good energy, and we found a way to win a close game," said Head Coach Greg Neeley.
After threats of snow cancelling the game, the teams met on the court ready for competitive play on the icy day. However, just before the game began, Piedmont honored former Lion Maxie Skinner.
Skinner graduated with the class of 1956 and went on to become Piedmont's head basketball coach, golf course director and then athletic director.
"I have never been more proud to have the Skinner name and to be his granddaughter. To see my entire family and his former teammates come out was so cool," said third-year guard/ post and Maxie Skinner's granddaughter Mary Bess Skinner.
During the first half, the Lions struggled to gain a lead over the Panthers of Ferrum. Both teams watched as players continued to push three-point shots through the net. The Lions, while never gaining the lead, kept the score close.
"We started out slowly, and the coaches were getting onto us about it. But, I mean, we had energy towards the second half," said second-year forward Justin Vallejo.
However, the game had another unique twist to it. A former Lions player, Jordyn Propst, transferred to Ferrum last year. Propst, during the game, was a part of the team that the Lions faced.
"It makes you feel that much better about that win," said Vallejo.
As the first half came to a close, the teams jogged into the locker rooms while the scoreboard read 29-28 with the Panthers in the lead.
During the second half, the Lions were able to pull forward, gaining the first lead they had all game with 14 minutes left in the half. The score was 39-38, and the Lions were able to control the lead for the rest of the game.
The crowd became more involved at this time, cheering for each basket the Lions attempted. While the Lions scored enough to widen the score gap, Ferrum was able
to narrow it again to a three-point deficit with less than
a minute left in the game. However, Piedmont's defense was up to the challenge and held the Panthers as the final seconds ticked down.
"I thought our guys did a good job of making good plays in the last five minutes for us to win," Neeley said.
"We are trying to get as far as we can, and win. That is all we want to do," said third-year guard Trae Gaines.
On Wed., Feb. 3, the Lions will hit the hardwoods of Cave Arena to face another conference rival, Maryville College. Tip-off is at 7:30 p.m.