What happened over winter break?
CALEB WILKIE
Staff Writer
While most Piedmont students have binged Netflix and relaxed for this last month, the Piedmont College basket- ball teams have continued their seasons.
During the month-long break, the men's team played Johnson University, Berry College, Sewanee University and Presbyterian College. The Lions defeated the Johnson University Suns with a score of 71-61. Third-year forward Chase England scored 18 points, making him the score leader for the Lions. Fourth-year forward Chris Meeks added 15 points, and third-year guard Trae Gaines scored 12 points. The Lions defeated Berry College in a nail-biter, 74-72. It came down to the wire, but Meeks scored the fi- nal basket to seal the Lions' victory. Gaines led the scorers with 21 points. The Lions defeated Sewanee, 84-72, and accumulated their best three-point percentage since 2014. England led the team with 19 points. The Lions only loss of the break was a 65-69 loss to Presbyterian.
The men's team begin the spring semester with a record of 5-4 overall.
The Piedmont College women's basketball team faced Huntingdon College, North Carolina Wesleyan College, Johnson and Wales University and Webster University. The team also hosted Centre, Hanover and Salem Colleges in the Cancer Awareness Tournament. First, the Lady Lions defeated Huntingdon, 72-67, in overtime. Fourth-year guard/post Mary Kate Rushton deflected a three-point at- tempt with seconds to go, sending the Lions into overtime. Rushton also led the team with 22 points. The Lady Lions dominated North Carolina Wesleyan, 80-64. The Bishops tried to rally after the half, but the Lions quickly stopped their efforts. The Lions fought hard against Johnson and Wales, but the Lions could not catch up before the buzzer, losing 78-76. Brianna Barrett had 15 points during the game. The Lady Lions then hosted the Cancer Awareness Tournament. They defeated Center College, 60-52. They then went on to the tournament championship to face Hanover and won, 84-77. According to the Piedmont Athletics website, outstanding performances by fourth- year post/guard Taylor Swoszowski, first-year guard Jatasia Bailey, second-year post Dakota Sullens and third-year point guard Brianna Barrett allowed the Lions to take the trophy.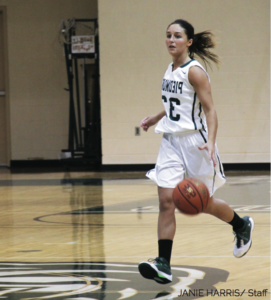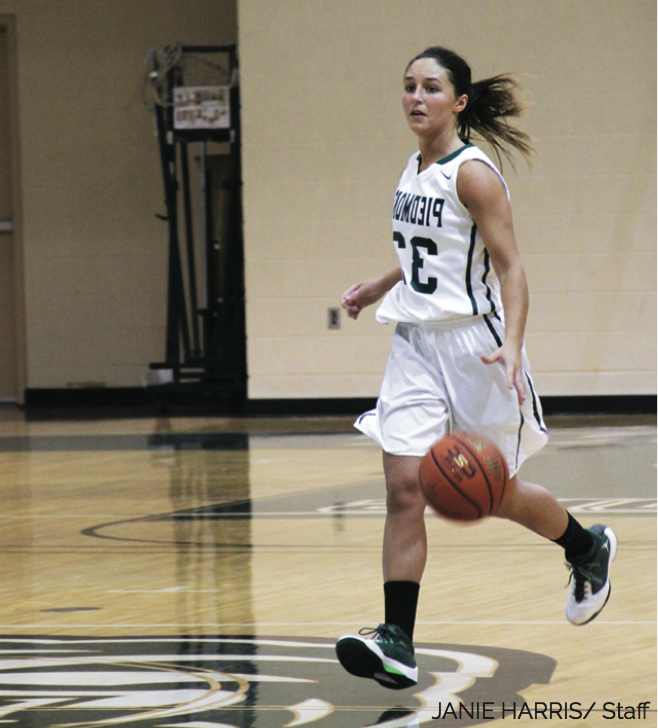 Third-year point guard Brianna Barrett moves down the court, looking to pass during a game against William Peace University on Sat., Jan. 9.