White Christmas starts off the holidays right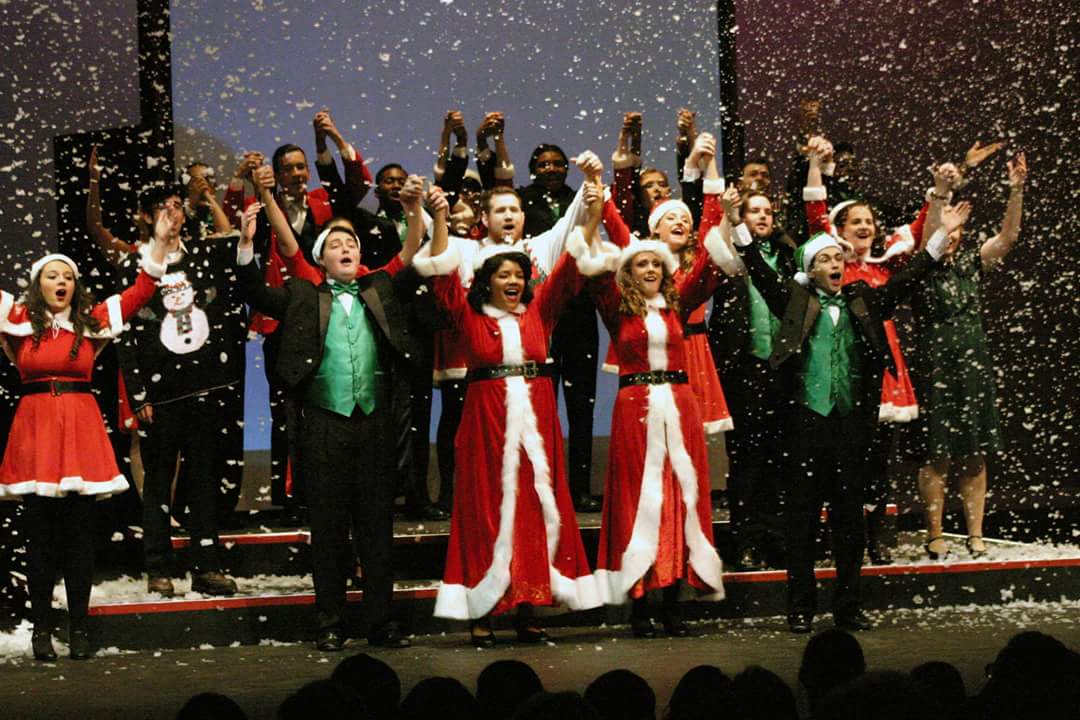 ALENA HANSON
Opinions Editor
The Piedmont College Department of Music and Theatre put on several performances of White Christmas from Nov. 19 to Nov. 22 on the Mainstage Theatre in the Swanson Center. Irving Berlin's musical was inspired by the book written by David Ives and Paul Blake. The play is also based on the 1954 Paramount Pictures Film.
Brandon Deen and Robbie Parrish play Bob Wallace and Phil Davis. Their comedic misunderstandings and close friendship stole the audience's hearts. 
Opposite them are the lovely Haynes Sisters, Betty and Judy, played by Cheyanne Osoria and Chelsea Gittens, who bring laughter by their differences and romantic endeavors. The plot involves Wallace and Davis as a song and dance duo who've begun to dip into the production end of show business.
The two meet singing sisters who turn out to be headed to Vermont, so what do the smitten Judy and Phil do? They hatch a play to ignite a romance between their partners. The foursome end up in a snowless Vermont with a bitter Bob and Betty.
The resort they stay at is owned by Bob and Phil's former commander from World War II, General Waverly, played by Levi Doublet. The production, directed by Bill Gabelhausen, elicited reactions that were not expected, especially when people first hear the word "musical." It was a feel-good musical that brought tears as well as chills.
The performance was full of singing and dancing alongside the wonderful acting. Everyone in the audience seemed drawn into the experience. One song was called "Count Your Blessings Instead of Sheep." It was not only touching for the people watching but also for each individual character at the end.
Osoria sang "Love, You Didn't Do Right By Me" for an emotional performance. Emotions rang through the music with "Falling Out of Love," "Love, You Didn't Do Right By Me" and "How Deep is the Ocean?" The songs flowed perfectly with the leads and supporting cast to develop the characters further.
White Christmas was unforgettable. It was like watching the movie with the impressive actors, actresses, singers and dancers. Throughout the performance, audience members had grins on their faces. Ezekiel Foster, portrayed by Igor Tomeski, had moments that were unanticipated but amazingly funny. His character was part of the amazing supporting cast that not only 'supported' but also shown on their own.
The dancers were in sync with each other, and it showed in their performances. The scenery changes were short and quick. The cast asked the audience to sing "White Christmas" along with them. The set design, costumes and the snow in the theatre were incredible attributes to the stunning cast. White Christmas was a production that gave a the audience a great start to the holidays.