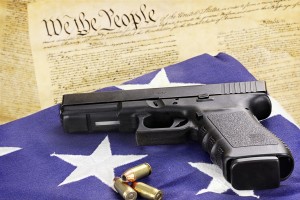 PC Targets Gun Control
Mellichamp signs letter to lawmakers
By MEGAN STUDDARD
News Editor
President James Melli- champ joined over 300 other college presidents in signing an open letter supporting gun safety legislation.
The letter, titled "College Presidents for Gun Safety,"
was released by two col- lege presidents in Atlanta, Ga.: Lawrence M. Schall of Oglethorpe University and Elizabeth Kiss of Agnes Scott College.
The letter was released on Jan. 19, over a month after the Sandy Hook Elementary School shooting that sparked
a nationwide debate on gun control.
The petition urges law- makers to oppose legislation allowing guns on college campuses, ban military-style assault weapons, and require consumer safety measures for all guns.
College presidents from across the nation have signed the letter, including eight from Georgia.
"The Congregational tra- dition allows everyone to make up their own mind about it," Mellichamp said.
"I'm not advocating for people not to be allowed to ownfirearmsandtousethem for self-protection or recre- ation," he said.
"But in light of all these mass shootings in recent years, it's a time for people to take a step back and examine the situation."
A large part of the letter mentioned the right for people to carry guns on college ampuses. Piedmont, being a private institution, has its own rules about guns on campus.
"We're not talking about taking away anyone's second amendment right," Melli- champ said. "I'm all for protecting people's rights, but I think the larger ethical question is: do individuals have to some- times have their rights lim- ited for the betterment of so- ciety? The answer to that, in my opinion, is unequivocally yes."