Dribbling into basketball season
MARISSA AKIN
Contributing Writer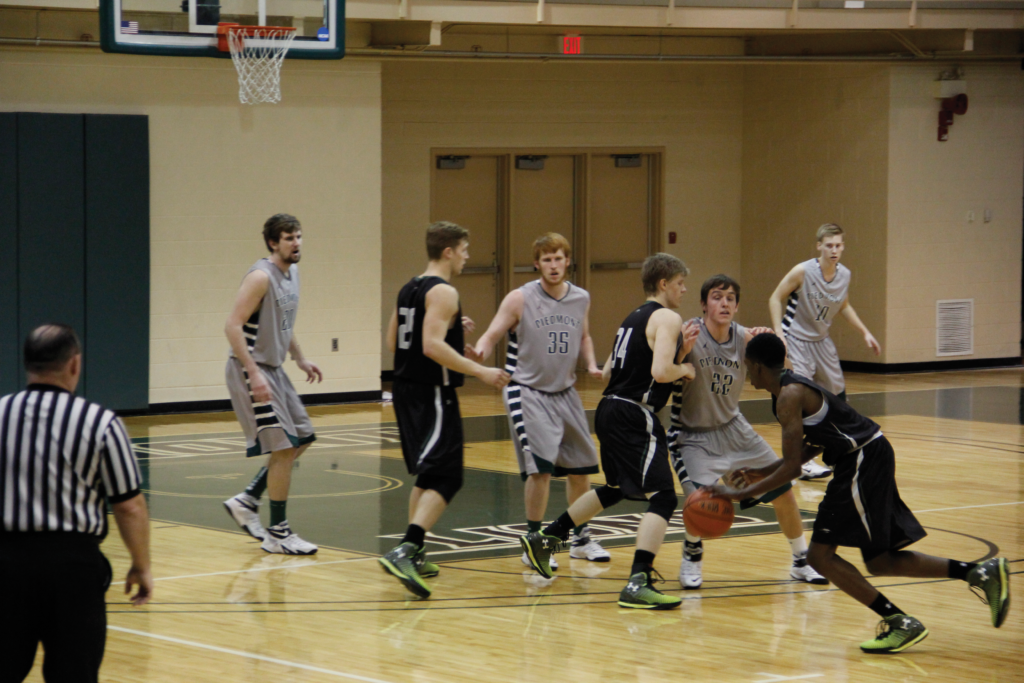 With the leaves falling and the weather getting colder, the members of Piedmont College men's basketball team begin to lace up their shoes for the beginning of the 2015-2016 season. The team and coaches have been practicing since Oct. 15.
"[Practices have] been going really well,"  Kelly Assinesi, third-year point guard, said. "It's clear, in our practices, that the team is very motivated for the upcoming season. We are going to keep building from last year's progression and hope success follows our hard work."
With the team's drive for success this season, Marquise Lanier second-year wing said that he hopes the team breaks school records and proves to the other teams what he and his teammates are capable of doing.
The men's basketball team finished third in last year's 2014-2015 season in the USA South Conference. This was also its first winning conference record in about six years. As a team, expectations have risen to become more successful.
"I think this year is our year to win conference and hang up Piedmont's first banner for men's basketball, mostly because we have a great group of returning athletes that know the system. And, we have a good core of incoming players to contribute to that success," Assinesi said.
"Our goal is to have this group reach its maximum potential," Head Coach Greg Neeley said. "The young men in our program have committed their time, energy and brains to being as good as they can possibly be, and we are excited to see the growth of this team. If we stay committed to preparing, playing with maximum effort and being great teammates, we have a chance to reach our potential."
Under the leadership of Neeley, the Piedmont College men's basketball program was chosen to finish with a tie for fifth in the USA South Preseason Poll.  Piedmont gained this position with the help of returning starters Peyton Luken, Chris Meeks and Chase England and the returning Rookie of the Year, Justin Vallejo. This was an improvement from being picked to finish ninth out of eighteen teams for their 2014-2015 season.
As game day approaches, the pressure continues to set in for Neeley. However, he expressed nothing but confidence in his players.
"This group's enthusiasm and willingness to be coached so far has been great," said Neeley. "I believe our young men understand the value of preparation and details and that should payoff throughout the season."
Piedmont's season will begin on the road against Emory University on Nov. 13 at 7 p.m.