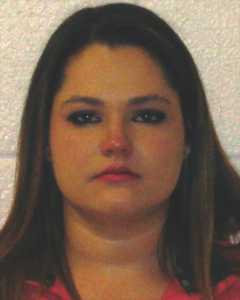 By JANIE HARRIS
Editor-in-Chief, News Editor
On Sept. 20, senior mass communications major Alexandra Smith was arrested at her workplace, the Nike Factory Store in Commerce, Ga., and charged with a felony for theft by taking. 
According to the incident report, Smith, on 13 different occasions, used store receipts from customers to credit money back onto gift cards, which she kept for herself. Overall, the manager reported that Smith had accumulated $3,000 worth of Nike gift cards.
When the arresting officer arrived, the Nike manager presented copies of the transactions, a DVD of store surveillance and a written, signed statement from Smith. The officer verified that Smith had written and signed the statement, then, after reading her Miranda rights, arrested her. 
The bond on Smith's charges totaled $3,000. She spent one day in jail before posting bond.  
Since then, Smith has decided to postpone finishing her degree at Piedmont, officially dropping out on Sept. 23.  
Dean of Student Engagement Emily Pettit suggested that if a student is struggling, he or she should speak to an unbiased, trained professional, such as on-campus counselor, Evonne Jones. 
"We would encourage all students and all friends of struggling students to seek help at the first sign there is a problem," Pettit wrote via email on Oct. 2.  "Our goal would be to help the student before there is a crisis or an action/behavior that results in a permanent consequence." 
Attempts to reach Smith for comment went unreturned by the Navigator's press deadline.
For more information about the arrest, contact Jackson County Sherriff's Office at 706-367-6010. To receive help or refer another student for help, contact Jones at [email protected]