Lions succeed in Extra Innings
By HALEY HALL
Staff Writer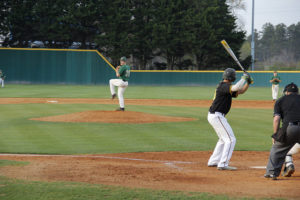 On Wednesday, April 8, Piedmont's baseball team defeated the nationally ranked Panthers of Birmingham College in extra innings. The final score was 2-1, and this win pushed the Lions' record to 18-11. 
Thrid-year pitcher Alex Astin stepped onto the mound for Piedmont as the first pitcher of the day. The first inning went by fairly quickly, moving into the second within about 20 minutes. The second followed in the same fashion, but in the third, the Panthers were able to score. 
Still, neither team was able to put more numbers up until Piedmont tied up the score in the sixth. Third-year first baseman Breck Davidson hit a double, pushing second-year infielder Griffin Olson to home plate. 
In the seventh, Piedmont switched pitchers. Third-year Allen Tokartz hit the mound to attempt to finish out the game. However, in the eighth, third-year infielder Will Skidmore made it to a base. After a sacrifice bunt and a walk by third-year outfielder Evan Gresham, the Lions had a runner in scoring position for the first time since the fifth. 
However, two strikeouts squashed the Lion's potential scores. The two teams entered the ninth tied. The ninth ended up looking like many of the other innings, scoreless. 
The home crowd witnessed extra innings that proved successful for the Lions. 
In the bottom of the tenth, after battling back and forth in a tight ballgame, Davidson made contact with the ball, sending Skidmore to home plate. The Lions cheered and ran to Davidson, greeting him with high-fives and hugs.  
Piedmont baseball players' cleats will hit the field again on April 14 in Atlanta, traveling to face Oglethorpe University.