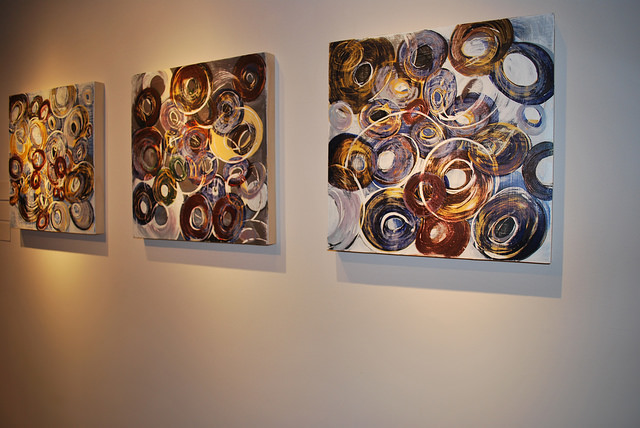 By KENYA CHANEY
Staff Writer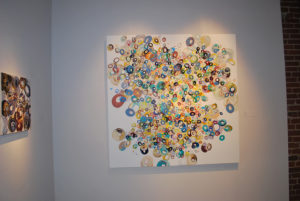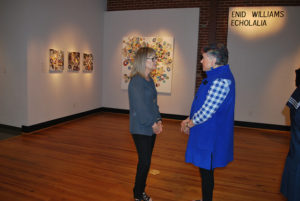 Artist Enid Williams paid a visit to Piedmont's Mason-Scharfenstein Museum of Art on March 12. Williams's relatively new collection, entitled "Echolalia," has been on display in the museum since February 15 of this year. 
Williams received her B.A. from the University of Toledo in 1992, and in 1996, she received her M.F.A. from Kent State University. Williams now teaches at Greenville Technical College in South Carolina.
Williams describes her work as a slow evolution of ideas. "It has not changed dramatically over the last several years. It has been a very slow journey to me. One that I've found to be very satisfying," Williams says. 
Her exploration in art lead her to find her own style. 
"When I first started with these circular forms, I was very much interested in creating something that was optical and creating something that was very meticulous. Something that revealed my hand in the making of the work," she said. 
Williams's interest with the average museum goer has influenced her work. The average museum goer looks at an art-work for approximately 20 seconds, according to Williams. She wanted to see if she could attempt to make an individual's visual eye engage with an artwork for more than 20 seconds. 
 The collection's title, "Echolalia," is defined as the often pathological repetition of what is said by other people as if echoing them. Williams's work certainly lives up to the title. 
"The titles of the pieces in the show all have something to do with repetition," Williams says. "I'm very interested in the way that the white defines what's occurring with the image. How does it function as a matrix? Can it function as a matrix? How many different scenarios can take place within this framework?" 
Williams says that her pieces have a bit of irony and a bit of contradiction.
The Navigator had a chance to speak with the artist about her latest collection.
N: When did you realize that you wanted to become an artist?
EW: I'm not a traditional artist. I knew when I was a child that I had to be painting and doing art. Probably about 20 or 25 years ago, I knew that I wanted to pursue it seriously.
N: What would you like viewers to see when they view your work?
EW: I want viewers to bring their own experiences to the work and to possibly consider metaphor as a content, as a way of carrying meaning. What can these circles in their relationship to one another, and what they're doing on the canvas and how they're interacting. How can that create a different metaphor for the viewer?
N: Your work is heavily inspired by colorblind test charts. How have the concept of these charts inspired you?
EW: They were developed in the forties. They were these big charts made of colors. Embedded in the little circles within a bigger circle was a number or a letter in a complementary color. 
N: Why use circles in your artwork?
EW: I wanted to use something that was very direct and very gestural, something that I felt like was modest and unheroic in a response to the gestural abstraction that comes with forming. It's part of the heritage of painting- it's part of its lineage. 
N: Could you give some advice to aspiring artists?
EW: Work. Develop your work ethic now. Go to the art studio every chance you get. Don't wait for inspiration. Go in even if it's for an hour every day. Get to know your work and spend time with it. Spend time with your ideas and allow yourself that time to really think and explore.
N: Do you plan to experiment with other shapes other than circles?
EW: Oh yeah, but not for a while. This has been my language for several years.
N: What are you currently working on?
EW: I'm always working. When I'm not teaching, I'm in the studio. I always have work going. 
Echolalia is now on display at the Mason-Scharfenstein Museum of Art until April 3.