By MARQUISE LANIER
Contributing Writer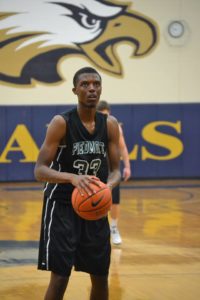 Trae Gaines
As Trae Gaines launched the ball from 43 feet away from the basket, his teammates and the crowd were frozen, waiting to see if the shot would fall through the net.
"When the ball left my hands, the shot felt good, but I was just hoping for the best," said Gaines, second-year guard for the Piedmont College men's basketball team.
When the ball went through the rim, the Maryville Scots were left in shock, and the Lions' players and fans stormed the court. This stunned Maryville's players, who had just taken control of the game by two points when a Scots player, Jaumonee Byrd made a power move to score a lay-up.
"I thought I was dreaming when I saw the ball go through the rim. I paused for a second then ran onto the court," said Trey Winders, first-year guard for the Lions.
Gaines' shot helped the Lions win the game 63-61. 
During the contest, Gaines struggled, going zero for three before he hit the game winner. He was subbed into the game with 2.3 seconds left for one last play for the Lions.
The shot gave the Lions their first win over Maryville since 2005. In addition, it allowed the Lions to move to the third seed in the USA South Conference.
Gaines is a leader off the bench for the Lions, and he has had a solid season so far, averaging 7.9 points and 3.1 rebounds. He has had many highlights this season, including 21 points in a win over the number six ranked team in the country, Emory. However, none have been bigger than his buzzer beater.
 "I just try to stay ready, so when my number is called, I can help my team win," said Gaines.
This was Gaines' first collegiate buzzer beater, and it came just in time for the Lions. 
His shot not only helped his team win, but it has been nominated to be one of the GECIO top plays of the year for college basketball. 
"I've made a few buzzer beaters while playing ball, but this is by far the biggest shot of my life," said Gaines.
The shot has been played on YouTube 1,675 times, and it even made an appearance on ESPN's website. 
 "I get chills every time I watch Trae Gaines shot", said Mallory Rockhill, second-year guard for the Lady Lions basketball team. 
******Click here to read and watch Piedmont Lions beat Maryville by buzzer beater!!******