GB residents face maintenance dilemmas
By NATALIE GAMBRELL
Arts & Entertainment Editor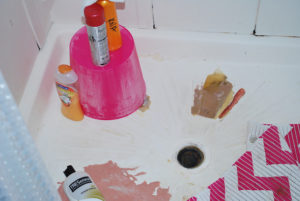 Imagine crawling bugs covering the windowsill of your dorm room and stretch, to the ceiling. A roof slowly drips water above the toilet.  A light flickers in the bathroom and finally gives out.  
These are just some of the problems freshman early-childhood education major Mckenzi Smith faced in her dorm room this semester. 
Smith, a resident of the basement floor of GB dorm, described herself as initially excited for the independence of moving away from home and into the dorms. However, that changed when the maintenance problems started. 
First, was the bugs. 
"We had some really nasty roaches," said Smith. "Then we had a ladybug infestation. I freaked out, called maintenance and they never came." 
Next, the light in the bathroom. 
"One time, the lights were out in our bathroom. It took two weeks to get someone to come look at it and another week for them to get a bulb and fix it. I had to shower in the dark for at least a month," said Smith.
Finally, what Smith considered the worst, the leak. 
"We had been experiencing a leak over our toilet. Then it got bigger, so much that there was sheet rock on the toilet from the ceiling. That's what made it bad enough that they had to come and fix it. They had to shut off the all the dorm's water so they could fix it. It was so bad no one could use any water from 5-11 PM," Smith said.
Resident Assistant to the basement floor of GB, Torrey McDowell, confirmed that when the water was shut off, it was probably the worst maintenance problem she's experienced at GB.  
McDowell said that while she hasn't had any maintenance requests this semester, she did get an average of "one or two a week" during the fall semester.
As for the wait between submitting  requests and receiving help from maintenance, McDowell said if there is a wait it is usually due to the fact that maintenance requests are answered based on the severity of the situation.
When it comes to weather, the age of GB contributes to the maintenance problems. McDowell continued to say: "With any building with lots of people living in it at once, you're going to have some maintenance problems. But there probably are a few more problems with GB than other dorms."
 However, Smith's views on the matter of the age of GB are clear.
"I feel that the age of GB makes it not safe to live here," Smith said. We have bugs, the window won't open, there's dust and mold. I just don't think it's healthy."