"The Interview" creates a buzz
By KENYA CHANEY
Staff Writer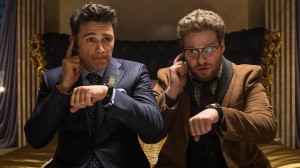 "The Interview" was recently released under Sony Entertainment after a long controversial scandal with the nation of North Korea's cyber hacking into Sony Pictures Entertainment. The cyber-attack was revealed to have started on Nov. 24, 2014, and was supposedly a reprisal from North Korea. Most of you may know the stories told by individuals and celebrities stating that North Korea cannot take away America's creative freedom of releasing the film. Thus the film was released at few theaters across the nation on Christmas day.
According to Los Angeles Times, the film has made $31 million from video on demand and $5 million at the box office. As many people that have seen the movie, is the movie really worth spending your precious time and money on? IMDb rates the movie with a 7.3/10. Whereas Rotten Tomatoes rates the movie with 51 percent, giving the film barely even three stars. With that being said, let's move on to the film.
The plot line of the film, "The Interview" involves two friends, James Franco who plays as Dave Skylark, a humorously dense late night TV show host and Seth Rogen as Aaron Rapoport, a somewhat grounded character in contrast to Skylark, who is a television producer of the show "Skylark Tonight." At a surprise" one thousandth episode party, Aaron runs into an old friend, stating that Aaron's job is far from "real news." Aaron feels down about the situation and starts to rethink his job. In order to keep Aaron from changing the format of the program, Dave Skylark decides to pitch in the idea of interviewing Kim Jong- Un.
The two friends are then sent on a mission to Pyongyang, North Korea by the CIA to assassinate the current leader of North Korea, Kim Jong- Un. On their journey they meet Sook, played by Diana Bang, a propagandist for Kim Jong- Un, who later aids the team in killing Kim Jong- Un. The two friends share many failed attempts to assassinate Kim Jong-Un and Skylark even shares a bit of a bromance with him giving the film some humor.
There are a few good laughs about some references, but other than that there's nothing too devastatingly funny, just tasteless humor. The film pulls in satirical, comedic, and political references that are sure to thrill some people. The film definitely requires an acquired taste. But to those who are curious about the film, it's rated R and can now be rented for $5.99 or bought for $14.99 on YouTube, Google Play or Xbox Video.