Rainy game proves unkind to Lions
By: Josh Parris
Staff Writer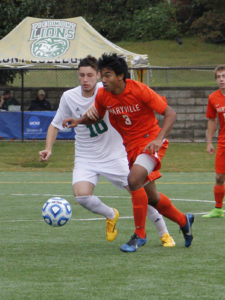 On Oct.15, the Piedmont College men's soccer team faced the Maryville Scots at the Walker Athletic Complex. After a hard fought comeback from the Lions, the Scots scored the deciding goal in the seventy-ninth minute, making the final score 3-2.
Brandon Herbert, a first-year defensive player, said, "In our game against Maryville, we played really well. We just couldn't finish."
As the game started, sprinkles of rain began to fall on the turf, making this match a little more challenging for both the Piedmont Lions and the Maryville Scots.
Maryville got an early 2-0 lead in the first half. Within the first five minutes of play, the Scotts got a break away and put one past the Lion's goalie. In the twentieth minute of play, they put another goal away making the Lions comeback almost out of reach.
Fourth-year forward Vincent Thomas and first-year defender Matthew Metzger both had shots on the Scots goalie in the opening minutes, but they were blocked. Thomas later got the opportunity to score the Lion's first goal of the game in a penalty kick.
With only seven minutes left in the first half, Metzger rocketed a shot off of a Scot defender's shoulder. The ball curved into the top right corner of the goal just out of reach of the goalie, which tied the match at 2 – 2.
The second half continued to be scoreless until the seventy-ninth minute. The Scotts put the final goal past the Lions' goalie off of a free kick.
Herbert said, "We were tied, but for whatever reason, we couldn't get that last goal in to seal the deal."
The Lions, in total, had 12 shots on cage, more than the Scots who only had 11.
The Lions will face Greensboro College, one of their last USA South conference games, at home on Oct. 24 at 2 p.m.