Lions fall to USA South Rival
By Justin Vallejo
Staff Writer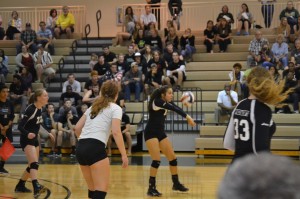 The Wednesday, Sept. 24, game was a strenuous match for the Piedmont College Lady
Lions (10-4) as they faced off against Covenant College. The volleyball team played their
USA south conference home opener, but that wasn't enough to fuel the Lions to a victory.
The Lions fell to the Scotts of Covenant College in all three matches pushing the Lion's
overall record to 10-4.
In the first match, the Scotts won by a hair with the score of 25-23. Covenant had 22 kills
in the first match, but the Lions tied up the match a dozen times. It was a fight you didn't
want to miss throughout the whole night, according to fans. Piedmont had 12 kills in the
first match. However, it wasn't enough to overcome the heat of the Lady Scotts.
Throughout the second match, the Lady Lions struggled to get kills, as they were only
able to knockdown seven in the whole match. The Lions struggled to keep up but were
ultimately conquered by the Scotts, 25-17.
In the third and final match of the evening, the Lions once again fell short to Covenant
with a score of 25-16. By this time, the Lady Lions seemed to be wearisome, as the Scotts
were pushing forward to secure the win. The Lions were only able to record seven kills,
and defeat showed on their faces as they walked off the court.
But the Lions are not done with the Scotts. They will face them again at Covenant on
Oct. 22.
Third-year libero Katie Faith said: "We struggled, but we are ready to take them on at
their place. They are a good team, and we are willing to rise to the occasion."
The Lady Lions hoped to bounce back at their next home game on Oct. 4, and they
achieved this goal. First, the Lions faced off against Mary Baldwin College and swept all
three matches. On the same day, the Lions also swept all three matches against
Greensboro College.
The volleyball team is to travel to Tigerville, S.C., to play North Greenville University on
Oct. 7 at 7 p.m.