By Riki Kujanpaa
Contributing Writer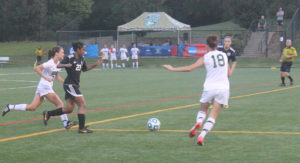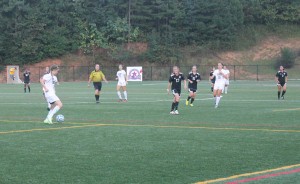 On Sept. 11 the women's soccer team battled it out with Agnes Scott at home. The Lady
Lions were victorious in their first home game of the season with a 1-0 victory.
After a few almost successful drives, the Lady Lions failed to run away with a lead.
There were many chances to score throughout the game for Piedmont.
"The biggest thing that we've been focusing on is finishing. We do all the work to get the
ball up there, but we can't quite finish our chances," said third-year goalie Michaela Gardner.
The game stayed at 0-0 until the last 20 minutes of the game when Kalyn Dumanowsky,
a second-year midfielder, snuck one right past the Agnes Scott goalie to give the Lady Lions a 1-
0 lead.
The team ended up keeping their lead until the end, adding another win to their season.
Megan Hatfield, second-year forward, had a big part of keeping up the intensity and had
the winning goal last year against Agnes Scott.
Hatfield said, "You can expect big games from us this year. We have a talented squad
this year and we have great depth. You can expect the game to be intense all 90 minutes long. I
also believe you can expect us to finish strongly."
In the end, Piedmont had two fouls, 17 shots and seven shots on the goal. Gardner
secured Piedmont's win with two saves.
The Piedmont College women's soccer team went on to face Ferrum College Friday,
Sept. 19 and William Peace University on Saturday, Sept. 20. Both games were won by the Lady
Lions with a score of 1-0.
On Sept. 26, the Lady Lions will travel to face Meredith College.