Volleyball Plans to Start with a Roar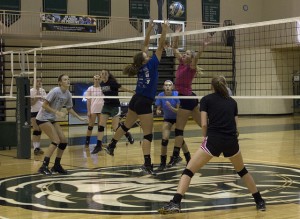 Written By Sabrina Page
Piedmont College volleyball is ready to get back out on the court, and
they are planning to start off the season strong. The Lady Lions finished
their last season with an overall record of 28-9.
This year, the team is ready to win the championship, and they are all
confident that they can.
"We are practicing the fundamentals from the beginning of preseason
which is helping us wipe off the rust. We are able to correct anything we are
doing wrong," according to third year setter, Xandy Green.
Along with the upcoming season, the Lady Lions are proud to
introduce the new graduate assistant coach, Mary Beck.
According to the Piedmont College athletics' website, Beck was a
former Lady Lion and has been interested in coaching for a few years now.
Beck said that Sid Feldman, the head volleyball coach, taught her how
to play volleyball and to now be coaching along side of him is very exciting.
Because of this bond, they share similar coaching techniques, which will
make for a powerful team.
"We love Mary Beck because she pushes us and isn't afraid to give us
advice. We need that kind of leadership, and she is going to help a lot this
year," said Green.
Piedmont College Volleyball has come up with new strategies on and
off the court that will ensure their success, according to Beck.
Beck said you have to maintain focus, whether this is on the court or
off. This includes setting goals academically, athletically and throughout
one's personal life.
"We really try to empower the girls to push themselves—they're
adults now, and we want them to do this for themselves and the team, not
just for us," said Beck.
This year, nearly half of the team is freshmen, and the seniors are now
looked upon to show them the ropes both on and off the court.
According to the athletics' website, the Piedmont College volleyball
team received recognition for their high academic achievement earning the
Team Academic Excellence Award for the 2013- 2014 year.
The award honors collegiate and high school volleyball teams that
displayed excellence in the classroom during the school year by maintaining
at least a 3.30 cumulative team grade-point average on a 4.0 scale, according
to the athletic website. Piedmont was one of two USA South members to
receive this award, and they plan on continuing this excellence in this new
season.
This year, the team has been selected to finish second in the USA
South. According to the athletic website, this includes the South Division as
overall in the league, marking the team's highest preseason selection since
joining the league in 2012.
The new season begins at Birmingham Southern College in Ala. on
August 29th at 7 p.m.
"I think that we've got a challenging season ahead, but we're poised
to do well as long as we start strong and continue to motivate each other to
improve," said Beck.