Softball Defeated at Regionals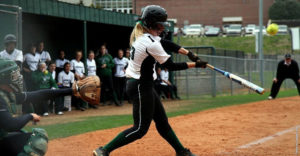 Written by Janie Harris and Durdan Smith
On May 11, 2014, the Piedmont College softball team was defeated by Emory University
in the Atlanta Regional of the NCAA National Tournament. This game ended a winning season
with an overall record of 43-8, a new record of wins for the Piedmont College softball team.
Outfielder Laura Carter said: "We fought hard every game. We never once gave up or
quit. We could have very easily let Emory run rule us in the championship, but we were not
going down without a fight."
According to Carter, the team started off the tournament strong with a win over Lynchburg
College. With that win, the Lady Lions were ready to face Emory for the first time in the
tournament. This first game against Emory was Carter's favorite part of the tournament.
"That was the most intense game I've ever played. It was probably our best game we
played all year," said Carter.
Piedmont lost 13-12, but their time in the tournament was not over yet. The team faced
Lynchburg again. After winning 2-0 in that game, Piedmont was set to play Emory in the
championship, but the team had to beat the Emory Eagles twice to win the tournament.
"We held Emory to only six [runs], but we lost the game six to one," said Carter.
Outfielder Christine Mobley said that in the Lady Lions began with a lot of fight in them,
and after scoring, the team was given hope. However, Emory came out on top. Mobley said that
the Eagles brought just as much energy as Piedmont did and the Eagles we ready to hit. After a
long season and a weekend of games, the Lady Lions were weak, and by the end of it the team
just didn't have the energy to fight and come back.
Softball head coach Terry Martin explained that while Emory was a good team, the Lady
Lions could have beaten them.
"We just lost our mental focus," said Martin.
Mobley explained she was upset when the team was defeated by Emory and kicked out of
the tournament, but she was proud of all the team had accomplished over the season.
There was no single hero this season according to Martin. Each and every member of the
team had to pull together and focus to bring them to the regional tournament and break the
school's winning record.
The loss to Emory, the graduation of two team leaders and a few other players leaving the
team will not stop the Lady Lions this year. Martin has high hopes for the season.
As long as new leaders step up to fill the gap left by those who graduated and the players
can avoid injury, Martin hopes to see the team go to the regional tournament again.
"I think we are going to be alright," said Martin.