Piedmont Athens celebrates SpringFest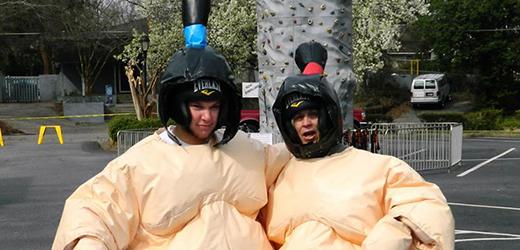 BY SAM ELDRIDGE, Staff Writer
On March 22, in the Athens campus parking lot, Piedmont hosted a SpringFest that catered to the community by offering crafts, rock walls, obstacle courses, and free food.
Though the fun in the sun was enough to attract a healthy crowd, the real focus of this event was the information it had to offer the future Athens students.
Zach Churchill, Coordinator of Student Services and Campus Events, was the director of SpringFest and when asked what he thought the main goal was, explained that "the purpose of SpringFest is one, to show our appreciation to our current students and give them an opportunity to interact with one another outside of the classroom in a fun and safe environment, and secondly, to showcase Piedmont-Athens to prospective students and the community."
Clubs and organizations of all shapes and sizes were able to showcase their mission statement in the Piedmont gymnasium.
Tri-boards and pamphlets galore, the air was filled with opportunity as each person that entered was given descriptions of each organization.