The woman behind the waffle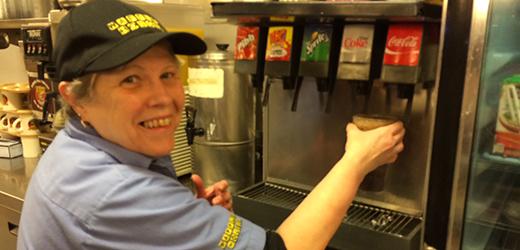 BY SARAH SMAGUR, Living/Athens Editor
She is easily one of the most beloved women on campus, but she doesn't work on campus at all.
Located at the "friendliest Waffle House in Cornelia," as they say when they pick up the phone, Vickie Black, known as "Ms. Vickie" by students has been a Piedmont College icon for years now.
If you enter the Waffle House on any given weekend, you will surely find her, giving out advice and life lessons just as much as she does food.
"My first time coming to Piedmont to visit my brother," said graduate business student Jeremy Douylliez, "I was a sophomore in high school and she gave me her jacket."
Black has not always been at the Waffle House. She was born in New Mexico and worked in a poultry plant for 25 years before joining the Waffle House family.
Black says that she treats us all just like she would her own kids, and she has no shortage of tough love to give.
"Waiting on everyone form Piedmont makes me feel younger.  Right now I'm happy just doing that," says Black, "You all make my life have so much more purpose than you can ever imagine!"
If Black could do anything, her dream job would be to work in robotics. Her favorite color is pink, and she loves all food, dogs, and any band from the 70s.
She said she could watch "Pretty Woman" on repeat.
Black sights her most rewarding experience in life as having her daughter and granddaughters.
"She [Ms. Vickie] makes me feel so happy and welcome every time I go in and she knows exactly what I want to eat," says Jacob McKee, junior theatre major.
Black said that she doens't feel like an icon and is honored that students at her in such a way. But, whether she feels like an icon or not, Black is certainly a legend at Piedmont College.
When asked if Black could give the students at Piedmont one piece of advice, her responce was this: "Try not to stress things to much! Try always to have a good time.  Nothing in life worth having is always going to be easy. Always let God lead you in the right direction."
Black's ability to turn a sour day into a great night is one which is thought of as a borderline super power.
"The quotes are endless," saidw Katie Robinson, senior theatre major. "I remember one night in the summer, I was at Waffle House after a performance at North Georgia Theatre. Miss Vickie flipped her lid when a bunch of us walked in because she missed 'her Piedmont kids' so much. She lit up and yelled, 'I don't know what I'd do without you kids driving me crazy!'"
Black says all of her Piedmont memories are special, and she couldn't possibly choose just one.
Last semester, Black made an appearance on campus to dish out advice at "The World According to Ms. Vickie." Another event for her to come back to campus and speak is in the works.
Black will continue to be a living legend around campus for years to come.
"This isn't her first time at the rodeo."