Piedmont College opens its doors to potential fine arts students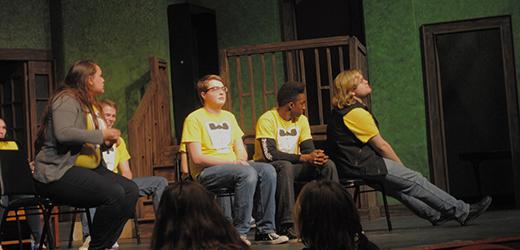 BY MANYI ENO, Staff Writer
On Thursday, Feb. 6, high school juniors and seniors arrived to participate in the Fine Arts College Experience (FACE) at Piedmont.
The event started when FACE students arrived on campus to move into their respective hosts' room for the night, followed by a dinner in the Brookside Dining Hall at 5p.m.
Following dinner, FACE students and their hosts are usually treated to a special reception and an art showing or musical performance.
This semester, they were welcome to attend a high school art show held in the Mason-Scharfenstein Museum of Art located on Georgia Street.
FACE is offered to high school students who are interested in the visual arts, theatre, music or creative writing.
Depending on the department of fine arts students register for, they are encouraged to bring a portfolio of their artwork, a prepared solo for music for musical theatre, a prepared monologue for theatre or a typed writing sample for creative writing.
This year was sophomore English major Sarah Gesualdo's first time as a FACE host. "It was a lot of fun; Haley convinced me to do it," Gesualdo said referring to her friend Hayley Major, a fellow sophomore English major.
"It was hard fitting another bed in my room, but it was easy and natural to get along with her [Taylor]. It was really fun to show [Taylor] around campus and go to all the different events."
This was also the first year for Gesualdo's FACE student, high school junior Taylor Crisp, to participate in the event. "I really enjoyed it. This was my first time coming to a college campus because I never visited one before," Crisp said.
Crisp said that Piedmont was one of two colleges that she was looking into for college in the future. "I really liked learning all about it and looking around the campus. My mentor was really good."
On Friday, FACE students attended breakfast and were encouraged to sit in on any of the fine arts and writing classes held for that day.
After lunch, performance evaluations, portfolio reviews and creative writing workshops were held.
FACE is held twice each year; once in the fall and once in the spring on a Thursday and Friday.