Men's lacrosse looks towards a successful season
By JANIE HARRIS
Staff Writer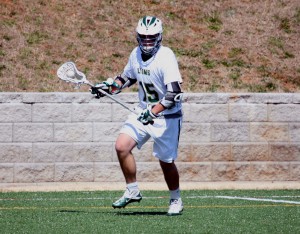 With spring sports about to begin, the 28 healthy players of the "fastest game on two feet" are preparing for their new season. This once tribal game played by Native Americans has made its way to Piedmont College, and the Piedmont College men's lacrosse team is about to embark on their third season.
The team is lead by Head Coach Pete Manderano. He helped start the program and remains hopeful about this spring.
"I feel like it is a new start," said Manderano. "We've got some pretty good talent that I think is going to help us through the season."
He explained that the team's dynamic has changed. With eight new freshmen and two new assistant coaches, there is new energy involved.  
"Our guys are starting to gel a lot better as a team," said Manderano. 
This year the team is planning on really competing in every game and cutting out the big losses. They are ready to prove that they belong and that other teams should take them more seriously. Manderano said that they have been focusing on the fundamentals, like attitude and character, on and off the field. 
Junior midfielder Sumner Gantz said, "The energy around this program is unlike our two previous seasons which is driving competitive practices and an atmosphere of brotherhood."
Berry College, Huntingdon College and Transylvania University are among the team's top rivalries, according to Manderano. And even though the men's lacrosse team has not entered a conference yet, the teams that will one day be in the same conference as Piedmont's team are also part of the team's top competitors. 
The assistant coaches in the past were great, according to Manderano, but the new coaches are helping this new energy a lot. 
The Piedmont Athletics' website reports that new assistant coach Kevin Shupp brings experience with lacrosse to the team after serving mostly as a defensive and goalie specialist for another collegiate lacrosse team. Manderano believes that having someone that goalies can go to for advice is exciting matter for the team. 
Sophomore goalie Mick Baker said, "He [Shupp] pushes the team."
Danny Ives is another new assistant coach for the Piedmont men's lacrosse team. According to the Piedmont Athletics' website, Ives will be using his offensive experience to lead the team in that aspect. Manderano explained that Ives has experience with the game internationally and with division two. 
Sophomore attack Taylor Carter said, "He [Ives] is a pretty cool guy. He makes us work hard, but only because he knows we have the potential to be an elite program." 
Gantz stated that this season will be a big statement for the program as a whole.
"Our program is moving forward, and this season should be a testament to the hard work we have dedicated during preseason," said Gantz.
The Piedmont College men's lacrosse team will have their first game on Feb 8 at 1 p.m. at Piedmont's Walker Athletic Complex.