PERC Conference scheduled at Piedmont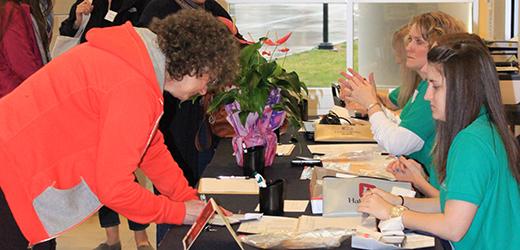 BY VANESSA SMITH, CONTRIBUTING WRITER
The Second Annual Piedmont Educator Renewal Conference (PERC) is an event for current and former students, as well as faculty from the Piedmont College School of Education, to share information about innovative, effective and authentic practices and research in education during the spring semester.
"PERC was born from a desire to showcase our student's research from the school of education as well as the research interests of our faculty," said Conference Coordinator Judith Perry.
"This year we are collaborating with the school of arts and sciences and hope to present a day for 'renewal.' The purpose of renewal is to reconnect with the community, our alumni and current students and engage in conversation about our profession and our roles in educating children."
There are a quite a few perks for attendees of the conference as well.
"For faculty that present at the conference, their participation can be added to their professional vitae and be added to their year-end evaluation by the School of Education," said Perry.
"For participants who are professionals, professional learning credit can be gained leading towards the renewal of their teaching certification. For students, field experience hours are awarded and if presenting, they may add this experience to a professional vitae or resume indicating service to the community as well as presenting at a professional conference.  Application to real world problems and possibilities are stressed, as well as presentations from those who have succeeded in making the research come alive in the classroom," said Perry
The theme, Creativity Across the Curriculum, represents the focus on imagination and creativity for this year's conference.
"Participants may choose from a variety of areas of interest, including but not limited to: Research in Action, Technology, Differentiation, How to Motivate Students and Assessment," said Perry.
"It is our hope that this year's conference will inspire educators to embrace a challenge of designing not only challenging lessons, but ones that allow the student to create, imagine and explore possibilities beyond the standards."
Elizabeth Farmer, a graduate student in education who both worked and attended last year's conference, encourages those thinking about attending this year to attend.
"The teachers, professors, and other guest speakers that were brought in provided [the attendees] with valuable information. It was a lot of fun last year and I gained a lot of information to take into the classroom," said Farmer.
"There are sessions that cater to everyone's interests. You can choose which session you would like to go to according to what field or subject you may be going into. You also receive tools that you can place in your portfolio to use in the classroom."
Anyone wishing to attend the conference is welcome. The conference will be held March 15 at the Swanson Center, with an entrance and registration fee of $20 for students and $40 for professionals.
The opening program begins at 8:30 a.m. with the conference ending at 4 p.m. Those looking to register late may do so at the door when it opens at 8 a.m.
To register early, visit www.piedmont.edu/pc/index.php/component/sfg/?formid=65