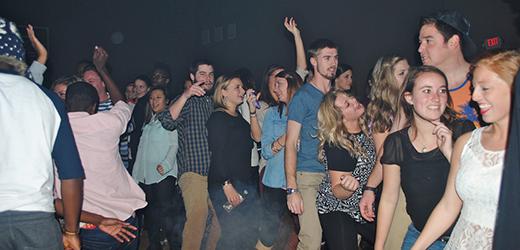 BY ALEX SMITH, SPORTS EDITOR
On Jan. 16, Piedmont rang in the New Year with a New Year's Bash hosted by the Campus Activity Board (CAB) in the student center.
Sidney Smith, a recent Piedmont graduate known as DJ Spoons, was brought in as the entertainment for the event, and students were required to pay two dollars for admission.
CAB placed balloons around the cafeteria earlier in the day to remind students about the event, later revealing that the admission price would be waved if a student brought one of the balloons with them.
The dance, which started at 9 p.m., was off to a slow start as students began to arrive at about 10:30 p.m.
The music got louder, and the dance floor started to fill up.
CAB updated their Facebook page throughout the night to attract more students and even offered free admission for the first five people who showed up after the offer was posted.
Mocktails, non-alcoholic cocktails, were served alongside finger foods.
The mocktails were named after real cocktails and looked like them, too. Sparkling cider took the place of champagne, and the red wine was sparkling grape juice.
"I actually think that it was going pretty well," said Kendall Newell, a sophomore education major. "I know campus police aggravated a lot of people by showing up and just watching us though."
DJ Spoons got the crowd on the dance floor by playing favorites like "The Wobble" and new hits like "Timber" as well as asking for requests via the event's Facebook page.
"I really liked that they brought Spoons in to DJ," said Newell.
Although the dance was never full, the turn out was a reflection of what's expected for a weeknight.
"I had a good time," said sophomore chemistry major Tori Mitchell. "It took a while to get it started, but it turned out to be fun. I just wish more people would show up."
CAB will continue to update students with news of upcoming events via their Facebook page at www.facebook.com/PiedmontCAB.