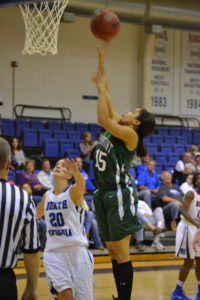 By ALEXANDRA SMITH
Sports Editor
Piedmont College closes out their preseason play with a loss against DII University of North Georgia 46-90.
The Lady Lions' owned Gabby Arencibia's three pointer just 1:28 into the game gave PC 5-4 lead, but a quick 11-0 run by UNG would put the Nighthawks up for good.
UNG held a decisive 52-34 advantage over PC on the glass, and the Lions gave up 22 turnovers that resulted in 32 Nighthawks points.
Sophomore Mary Kate Rushton said, "I think it prepared us for the season because it taught us that we can overcome adversity and we are just going to work harder and be better prepared for our upcoming games. It's not going to be easy but our team chemistry is building and I know that we will get better as the season goes on."
Lauren Hamel was the only player to reach double figures with 10 points on 5-10 shooting from the floor.
"Coach said that we just need to play hard and work hard in practice so we can carry it over to a game and that we need to reflect on what happened during the game and what we can improve," said Rushton.
PC officially opened up the season Saturday against Centre College. PC lost 73-76 against the Colonels.
The Lady Lions saw the visiting Colonels shoot better than 85 percent from beyond the three point arc in the second half to overtake Piedmont outscoring the home team by six in the final 20 minutes after heading into the locker room down by three at the half.
Symone Ball was Piedmont's leading scorer with 15 points on six of 11 shooting from the field also pulling down a team-high seven rebounds with three coming on the offensive end.
Ball's numbers were part of Piedmont's big time production off the bench, while starter Lauren Hamel was one of PC's best shooters from the field hitting five of her 12 tries to total 11 points as one of four Lady Lions in double-digit scoring.
The Lady Lions take on Agnes Scott on Nov. 20 at 6p p.m. in Decatur, Ga.