Making Mom Proud: "The Present Is Just The Future Past" touches hearts and opens door for awareness opportunities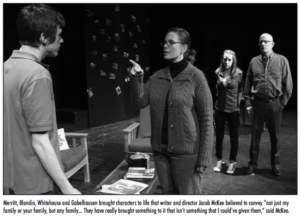 By ERIN GATHERCOAL
Features Editor
"I feel like the family itself could be, not just my family or your family, but any family."
This is how writer and di- rector of "The Present Is Just The Future Past," sophomore theatre major Jacob McKee, described the family dynamic in his show.
"It is a play about a fam- ily that is going through some particularly unique, but at the same time all-encompassing issues," said McKee. "But I can't say much more than that, I don't want to give much away."
"The Present Is Just The Future Past" was performed in the Swanson Center Black Box on Jan. 26. The opening night performance originally sched- uled for Jan. 25 was cancelled due to inclement weather.
"Future Past" was presented by Make Mom Proud, an orga- nization founded in November 2012 by McKee and two other Piedmont students: sopho-
more theatre majors Tyler Dale and Monique Leaphart.
Make Mom Proud states its purpose is "to produce student-written works of the- atre, to promote a cause, and to honor those who brought us into this world: our mothers."
The organization hopes to continue the tradition of host- ing the annual "Make Mom Proud Night," during which an original, student-written theatre piece will be presented and the proceeds will go to the charity of the writer or direc- tor's choice.
"The Present Is Just The Future Past" was the first piece presented by Make Mom Proud, and the cause promoted was breast cancer awareness. The performance was a pay-what-you-can fun- draiser. All funds collected were donated to the Evie Pe- ters Foundation, a local breast cancer awareness group which gives support to cancer survi- vors and fighters in Habersh- am County.
"The play isn't about breastcancer," said McKee, "but it's about a particular family dy- namic that could be affected by breast cancer."
The Evie Peters Foundation
was formed by Natalie Craw- and lost her battle to cancer in
ford, Piedmont's director of student activities and campus events. Evelyn "Evie" Peters was Crawford's grandmother2008. In 2009, Crawford found- ed the Evie Peters Foundation in honor of her grandmother.
"Future Past" has been McKee's "baby" for manymonths now, according to McKee's stage manager Lilly Baxley. McKee was inspired to write something following the passing of his mother last March.
"The play is not based on that," said McKee, "but it stirred something emotionally in me, and those emotions in- spired it."
The process for creating "Future Past" has been a long one, but it has not been a lone- ly one. McKee began writing in May 2012, but due to a sum- mer job, had to put the project on hold until the job was over. At the end of the summer, McKee had finished the first draft.
After writing three drafts to- tal and holding read-throughs for each draft, McKee sought out feedback from friends and teachers. "During the rehears- al process, there have been cuts that have been made and lines that have been changed, because it is a living, breathingpiece of work," McKee said. Even though the first show was just completed, future plans for Make Mom Proud pieces are already in the works. "I believe Monique and Dale are both working on orig- inal scripts that they would liketo present as part of the Make Mom Proud project," said McKee. "Keep on the watch for Make Mom Proud to come back in the future."
While "Future Past" was headed up by McKee, he refus- es to take much credit. "When you go up there and watch it, I just want peoople to know that I wrote it and directed it, but I really have to give all of the credit for how beautiful it is to Oliver and Shelby and Kathy and Bill," said McKee. "They've dug deeper than I might have as a cast mem- ber of it. They have really brought something to it that isn't something that I could've given them."
The production over all was a small one, performed on a small set, but McKee express- es eternal thanks for his crew. "I would also like to thank my stage manager and assistant manager. I couldn't have done it without either of them."
Due to the original open-ing night cancellation on Jan. 25, "The Present Is Just The Future Past" will be presented a sec- ond time on Thursday, Jan. 31 during FACE (Fine Arts College Ex- perience). A time hasnot yet been confirmed, but will be announced on the Facebook event page, which can be found through the Make Mom Proud Facebook page.