Leading Lions: Women's Soccer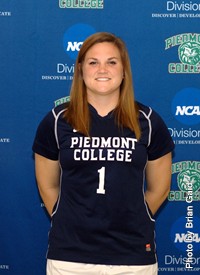 Marjorie Hammond
Senior, secondary education concentration in english major
High School: Parkview High School
Hometown: Stone Mountain, Ga.
Experience:I've been playing since I was eight.
What is your greatest personal achievement? 
My greatest personal achievement was winning conference, going to nationals and getting all conference my sophomore year.
What are your pregame rituals?
I have to walk down to the field with Laura. I also have to touch each goal post and the top of the goal before the game starts.
Why did you choose PC?
I chose PC because I was recruited and Sarah Hill decided to play here.
What are your plans after graduating Piedmont?
I plan on getting my master degree in education.
Hammond has appeared in 17 games this season for a total of 1,346 minutes. She has posted 48 saves this season.