Lady Lions basketball prepares for upcoming season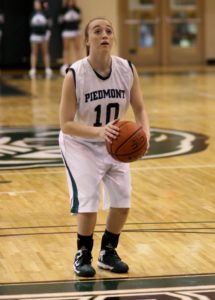 By: Mayni Eno, Staff Writer
Roaring Piedmont students and parents filled the bleachers in the Mize Athletic Center Oct. 28 at 5:30p.m. for the women's basketball scrimmage game against Brenau University.
Last year, the women's basketball team ended the season 10-14 overall and 5-12 in the USA South Conference.
Head women's basketball coach Jamie Purdy said that the scrimmage was a chance for the team to see the things they needed to work on.
"We're very young, so it was nice for us to be able to play this against somebody other than ourselves," Purdy said. "We certainly have a lot of things that we need to focus on [in] the next few days of practice but we got a lot to build off of too."
Purdy explained that they have not established captains at the moment, but that two of her returning players this season are stepping up their game this season.
"All four of our upperclassmen are really stepping up; Chandlar Alverson and Lauren Hamel are leading the team more by example than anything."
Point guard, senior Lauren Hamel started all 24 games last year as a junior and led the team in scoring 12.1 points per game; ranking second with 43 steals. Junior, Chandlar Averson played in 23 games last year as a freshman and recorded seven rebounds in the game against Christopher-Newport University.
"We can't try to ride the shoulders of one or two people; all of us have to contribute," Purdy said about the team. "We don't have one particular person that's going to be able to score all of our points for us. I think from top to bottom we're all going to have to contribute."
Junior Symone Ball is a returning player this season, and was proud of her team's chemistry during the scrimmage.
"I think we did good, I think it was something to help us see where we are. I was pleased with how we did, but of course we will keep improving," said Ball. "I've been loving practices; they're intense and I think our chemistry has been growing every practice because we have a lot of new people. I'm definitely excited for the season."
Piedmont will begin their season on Nov. 16 as they travel to Dahlonega, Georgia to take on the Division II University of North Georgia Nighthawks.